FAIRFIELD — If you want to compare apples to apples, you can't compare cider to apple juice. Think wine instead.
It's a lesson Katie Greenfield and Jesse Narducci know well. And, when the Jefferson County Ciderworks expands into a new production facility, they'll be at the forefront of a growing market in Iowa.
The growth of cider in the U.S. has some parallels to the craft brewing boom of the past 20 years. And that's where Narducci got started. "It's kind of an evolution of homebrewing. I had brewed a lot of beers. Then I did a photography thing with an orchard in California," he said.
Like homebrewing, cider has a long history in the U.S. Back in colonial days, safe water was hard to come by. But apples were plentiful, and fermentation is a purification process. If you went to a tavern, there was more likely cider on the menu than beer.
Iowa has its own history with the apple. That red delicious you bought at the store? It was originally called the Hawkeye apple. But as with vineyards and regional beers, prohibition knocked the entire industry back on its heels.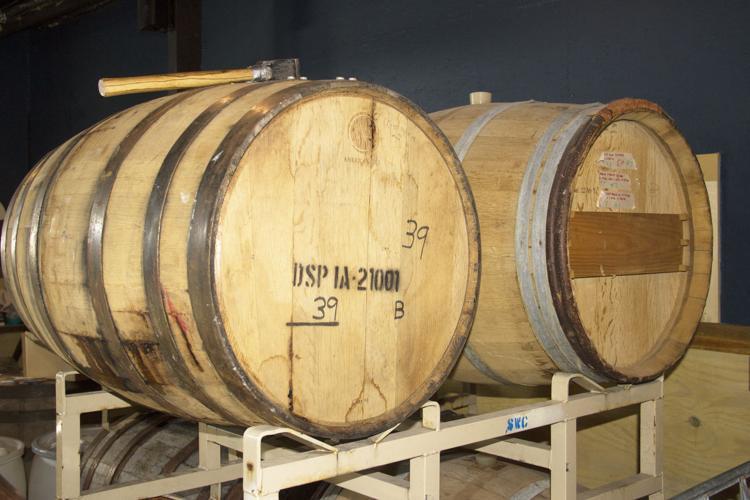 The Jefferson County brewing started three years ago with apples from a half-acre orchard on a family farm. It's now at 7-12 acres, more than enough to push the ciderworks' current capacity to the limit.
That will change this spring. The ciderworks is moving into a new facility that has 12,000 square feet. Greenfield said that will allow the operation to increase production, control conditions and expand without sacrificing quality. She's hoping to get moving at the end of March and be up and running by late spring or early summer. Customers are ready.
"We've had so much demand for our product. We have a waiting list," Greenfield said.
"Our workflow is going to be so much easier," Narducci agreed.
But, how does this have anything to do with wine? When most people think apple cider, they think of freshly-pressed apple juice. But hard cider, the kind Greenfield and Narducci make, is different. Like wine, it runs from sweet to dry.
The visit from RAGBRAI two years ago was an eye-opener for the pair. Narducci said they offered free samples and some people turned them down due to the image of cider as dressed up apple juice. When they could convince a skeptic to try some, the reactions were almost universally positive. The ciderworks wound up selling about 30 gallons that day.
The new location is a former millwork manufacturing facility that has been vacant for a decade. For Narducci and Greenfield, bringing back work at a long-closed site is part of the attraction. It fits their needs and shows off value-added agriculture. It will mean new jobs, but not a huge number. Two full-time positions are planned, and two part-time workers will also be hired.
The future holds hope for the pair. They're working with Indian Hills Community College to develop an apprenticeship program so people can learn skills they can use to break into cider, brewing, distilling and other industries.
Unlike a lot of industries, Greenfield and Narducci said Iowa winemakers and brewers welcomed their arrival. That support helped them gain a foothold, and their dreams are for much bigger things.
"We want to be one of the major cider players in Iowa, if not the region, the Midwest," Narducci said. "We want to educate people on what cider is and what it can be."
Just remember to think wine when you take that first sip. This isn't the cider you may think it is.