OTTUMWA — The success of the End of Summer Reading Program Carnival was apparent as you approached the lawn of the Ottumwa Public Library.
OPL staff member Michelle Duker put it into words: "We've been open 20 minutes and we've had 150-plus kids."
A variety of game booths, 10 in all, were strewn across the lawn as well as a drink table and arts and crafts station.
"We do this every year," said Allyson Kirking, children's librarian. "A lot of the games, the library has been doing for many years."
But every couple years, she said, the library brings in something new. "We try to rotate them so we're not doing the exact same thing every year."
The newest game on the scene was Plinko. Other games included a ring toss, a duck pond, Tic Tac Toe, a bean bag toss, a fishing game and "Give a Dog a Bone."
"We had things as easy as the duck pond for the really little ones and skill games for kids of all ages," Duker said.
One of the games highlighted the time of year. It was a school supply spin. Kids paid their ticket and spun the wheel to see which one of eight prizes they would get. Prizes ranged from basics like pencils, crayons and markers to ear buds and backpacks.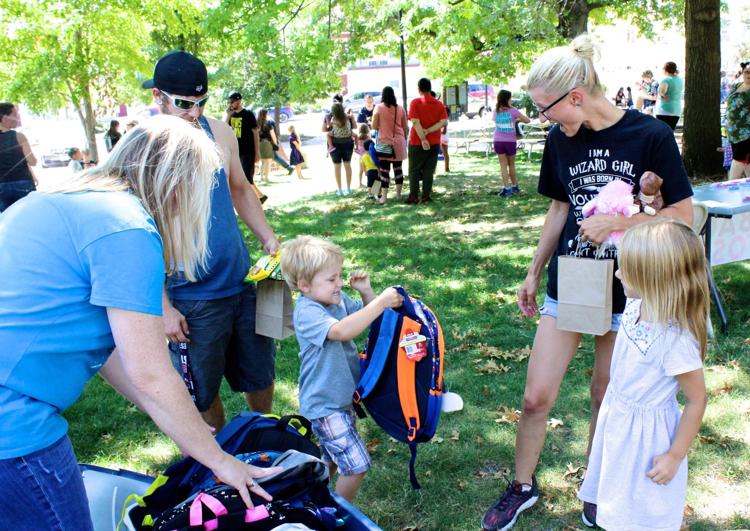 "That is our most popular game," Kirking said. "Kids will play that over and over and over."
But for Kirking, the free carnival is a chance to celebrate the Summer Reading Program.
"I hope it rewards [the kids] for all the hard work they've done over the summer with the Summer Reading Program," she said. "And with the school supply spin, we hope to relieve some of that burden for some families."
Kirking said the prizes for the carnival games were funded largely through library money as well as money from the Friends of the Ottumwa Public Library. "The Wapello County Children's Alliance provided the funds for the school supplies," she said. "That was huge for us."
Activities will continue tomorrow. An End of Summer Reading Party begins at 3 p.m. Saturday and will feature a mystery game, pizza and announcement of the grand prize winner for the Summer Reading Program.
But Friday afternoon was all about the younger kids, and the weather pulled through.
"We had good weather for a change, so that's nice," Duker said.
"It's a nice way for families to spend an afternoon at the library," said Kirking.