OTTUMWA — Gideon Oji had a good day defending his title as the Canteen eating champion. He broke the mark he set last year, after all.
Joey Chestnut just had a better one.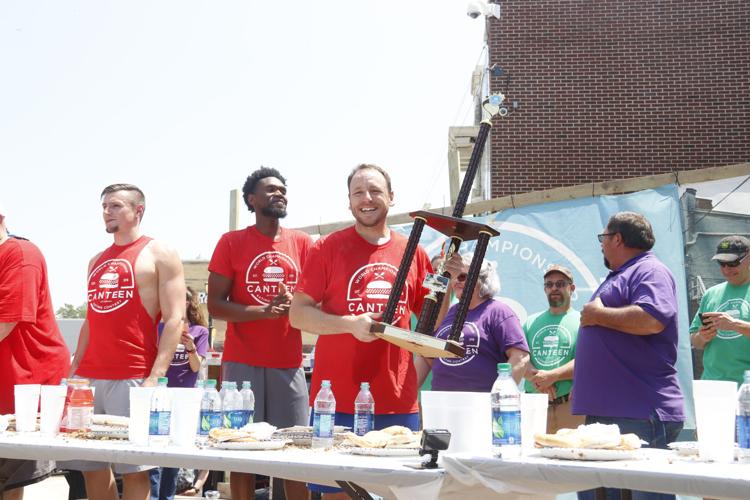 Chestnut, the world's number one competitive eater, shattered the old record by downing an incredible 28.5 Canteen sandwiches Saturday — 10 more than the old mark. The competition drew big crowds to Canteen Alley, but organizers managed the crowds by making the most of the available space and avoiding a crush at the stage.
It was a day to embrace a bit of silliness, with a pig from JBS challenging children in the audience to dance-offs while Prince's "Let's Go Crazy" blared from speakers. A piece of bacon with Mickey-Mouse style gloves watched approvingly. But once the contest began it was all business.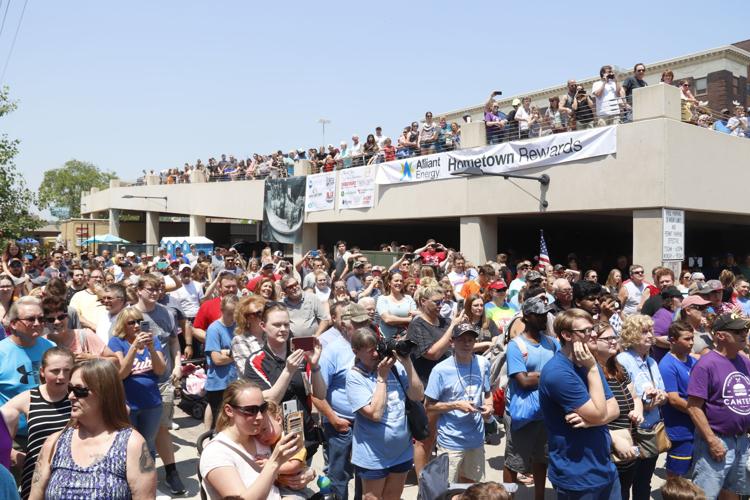 Chestnut took an early lead over Oji and was about one sandwich ahead at the three-minute mark. The lead widened from there. Both Oji and Chestnut mostly ate with their eyes closed, focusing on getting as much food down as possible. But Chestnut admitted afterwards to sneaking a peek every now and then.
"I tried not to focus on what he was doing," said Chestnut, "but I was watching a bit."
Saturday's competition was the second annual contest sanctioned by Major League Eating. The inaugural year saw Oji eat 18.5 sandwiches to take home the title.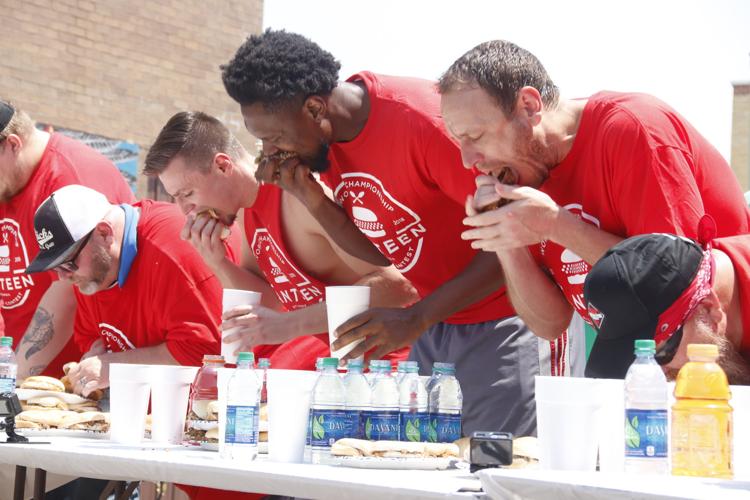 In 2019 there were three professionals to watch: Chestnut, Oji and Matt "Hungry" Hazard. Each is ranked in the top 30 worldwide, and Chestnut showed why he is at the top.
This was not Chestnut's first visit to Ottumwa. In February, he signed autographs at the Chamber's home show. The weather was just a bit different this time, with shorts and t-shirts in place of heavy winter coats. "You remember that?" Chestnut laughed. "There was snow on the ground!"
At that time Chestnut wasn't sure whether he would compete in Ottumwa. He is in training for the 2019 Nathan's Hot Dog contest at Coney Island, one of the biggest events on the MLE calendar. But he made the time, and was glad he did.
"I feel great," he said. "The crowd was awesome."
Chestnut wasn't the only winner on the day. Jamel Jackson won the amateur pork chop eating contest that took place before the main event.
"My friend is doing the pro contest. I was like, 'I might as well do it,'" he said.