OTTUMWA — Firefighter Rodney Long is worried. The revenues for the upcoming budget year aren't what the city hoped, and he has heard cuts may be coming to the police and fire departments.
"They're looking at three to six positions just in the fire department," Long said. "That would hurt us immensely."
There are not yet specific figures for the potential cuts, but Long's basic concern is valid. Cuts are very much on the table for Ottumwa, and it's not just in the public safety departments. Mayor Tom Lazio said Thursday the city faces the fundamental question of making cuts or raising taxes, which are already significantly higher than those in comparable Iowa cities.
"We are still working on the budget. We have not presented it in full to the council," he said.
That presentation will take place Tuesday. Once it's made, tough choices will follow.
How did we get here?
Both bad luck and the city's own decisions played a role in creating the current budget situation. Revenues didn't rise as expected, and the city council created significant new expenses when it directed staff to fill positions in the police and fire departments.
Finance Director Kala Mulder said there are two overwhelming constraints for Ottumwa's budget when it comes to the general fund. The first is the city's property tax valuation, which badly lags behind comparable Iowa cities. Ottumwa has the highest percentage of properties in the state valued at or below $50,000.
Just getting Ottumwa up to the current average valuation for similar cities would require an increase of close to 40 percent in the city's assessments.
Values aren't rising, either. The increase from this year's budget to next year's is less than $300,000.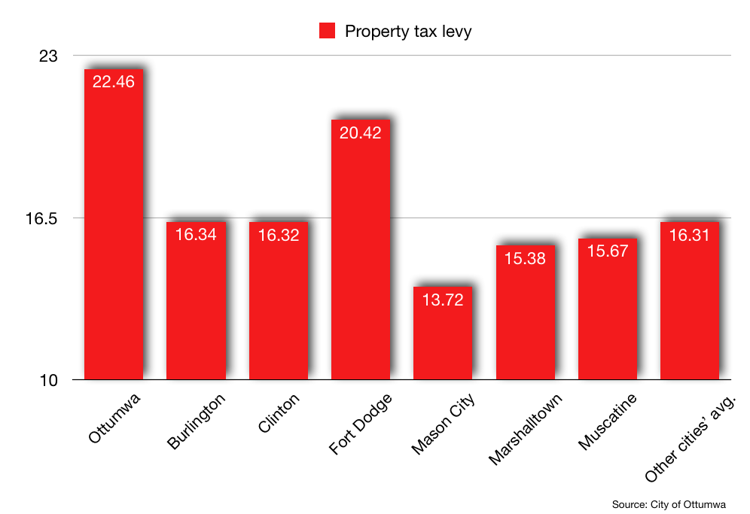 The second major factor is Ottumwa's current tax rates, which are already pushing the limits of what the city can assess. The general fund levy cannot rise.
"That levy is at the maximum that it can be, so we can't raise that levy to cover any new expenses or salary increases that are proposed that are hitting our general fund," Mulder said.
Public safety expenses dominate the general fund's spending on personnel. Nearly 80 cents of every personnel dollar spent from the fund goes to one of those two departments: 49 percent of the cost coming from the police department and 30 percent from the fire department.
Ottumwa currently has 30 firefighters, 10 each on three shifts. There are 40 current police officers, with authorization for 42. Police Chief Tom McAndrew pointed out that the extensive training officers require means that a new hire is rarely ready to patrol alone less than a year after being hired.
Costs for those positions rose significantly within the past couple years. In September 2017 the council rejected staff plans for hirings within the police and fire departments. The council's move ordered immediate steps for hiring three people in the fire department, rather than a gradual hiring proposed by staff. A similar move directed the police department to fill its 42 authorized positions, an increase of six officers over what was then filled.
The costs go beyond just having more people than there were a couple years ago. Lazio said the city also gave those employees a $3 per hour raise. That was designed in part to slow the rate of turnover the city faced, particularly with the police department.
The city also changed the contracts, requiring officers and firefighters who leave soon after being hired to reimburse the city for a portion of their training costs.
And, as far as turnover goes, the combination seems to have worked. The city was losing an officer every other month on average prior to those changes. The past year has not seen significant turnover due to people leaving for other departments.
"I think the pay raise was appropriate. It was comparable in terms of what other officers were receiving around the state," Lazio said.
But the changes also meant the city took on higher personnel costs and, without increasing revenues, tightened the budget considerably. The budget requests from city staff would generate a coverage ratio, a measure used to assess a city's financial stability and capacity to repay bonds or loans, would drop to 12.35 percent. A healthy level is in the 16-22 percent range.
That means spending cuts are needed to protect the city's ability to bond at reasonable interest rates, a need that is especially acute given the ongoing costs of the sewer separation project.
What will the cuts mean?
Beyond the effects for the people whose jobs are on the line, there could be noticeable changes for Ottumwa residents.
Police Chief Tom McAndrew said his department's shifts "will adapt and overcome."
"We'll just deal with whatever comes at us. We always have, and we'll just work with people to provide the best services we can."
At the same time, though, he noted that there is a point at which numbers dictate service. If departments are cut too deeply, they have to change their approaches.
Fire Chief Tony Miller said much the same, while recognizing that some of his firefighters will likely leave Ottumwa.
"My goal now is, and I've been through this in 1987 [when] I got a layoff letter from the fire department, I talked to these guys about what happened with the layoff, I know what they're feeling," he said. "I know exactly how they want to think and someone who's been through this, I'm going to do whatever I can to get these guys hired in another department."
It's not just public safety under the financial knife.
"There will be cuts in all departments," Lazio said. "We have cut some departments already. They are bare bones already."
"We've really picked apart every single department," Mulder agreed.
Councilman Skip Stevens, who previously served as the city's public works director, pointed out that not all cuts are the same. When you're trying to balance money in the city's general fund, a cut position in public works won't make the difference.
"You've got to understand that there's different budgets here," said Stevens. "Public works folks are paid out of road use, and the sewer fees that you pay on your water bill have nothing to do with what we're talking about today. So, that rumor out there, 'Why aren't you cutting public works?' Two different buckets of money."
The city's non-union employees did not see a raise this year, and there will be discussions about benefits in the coming years.
The benefits offered to city employees are a disproportionate part of the budget as compared to other Iowa communities the size of Ottumwa. That's because the city pays 90 percent of those costs. "Most counties or cities do not pay 90 percent of the benefits for their employees," Lazio said.
He also pushed back hard against accusations the city's money is being mismanaged.
"The real issue is that our total property valuations did not rise as much as we had hoped. As a result, of the increase in revenues was very small. Smaller than expected. Increase in expenses was much greater than expected," he said.
It was a point on which Mulder agreed. She characterized the situation not as a question of misspending money, but of not having the money to spend in the first place.
What's next?
The city's proposed budget will go to the council for the first time next Tuesday. The council's vote on the budget is scheduled for March 17.
It's going to be a long wait for the people whose careers may depend on the final outcome of those discussions, not knowing whether the cuts will be as deep as currently feared.
Long said he understands Ottumwa is not a wealthy community and that budget constraints are a reality. But he worries about the effects on people, equipment and the residents who depend on them.
"It would make things harder for us," Long said. "Response times would be longer."
It's not the outcome the city wants. It's an outcome it may not be able to escape.