ALBIA — Monroe County was among the last area locations to report a confirmed case of COVID-19. Cases have risen quickly, though, and it appears to be for one of the worst possible reasons.
Oakwood Specialty Care released a statement saying the facility has 14 residents who have tested positive for the virus. Outbreaks in long-term care facilities in other parts of the state have spread rapidly, and the virus is more dangerous for older adults.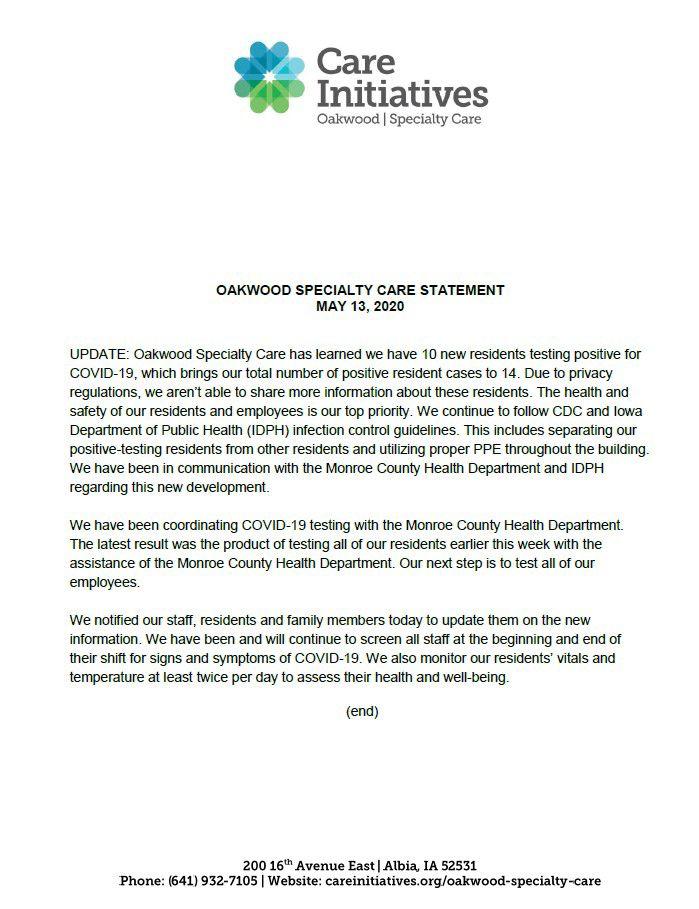 In the statement, the facility said it continues to "follow CDC and Iowa Department of Public Health (IDPH) infection control guidelines. This includes separating our positive-testing residents from other residents and utilizing proper PPE throughout the building."
Testing of residents is being coordinated with the Monroe County Health Department. The rise in cases "was the product of testing all our residents with the assistance of the Monroe County Health Department." All employees are also going to be tested.
Staff are screened at both the beginning and end of shifts, and residents' vital signs and temperatures are being checked "at least twice per day."
The state's page for COVID-19 data includes a page dedicated to outbreaks of the virus at long-term care facilities. A total of 33 such outbreaks are listed, involving a total of 1,148 staff and residents.
Oakwood Specialty Care is listed among those sites, but the state's total shows four positive tests rather than the 14 given by the facility itself.