OTTUMWA — State data suggests Wapello County may be moving past the peak for the COVID-19 pandemic, though there is still reason for caution.
Both the number of new cases as tallied by the state and the rate at which cases in Wapello County are growing show signs of slowing. The Courier's analysis relies on state data, rather than that from local officials, because the state's website provides a daily breakdown. County officials present only the totals.
Both have shown signs of a reduction in new cases, but that has happened for a day or two previously without significantly altering the overall trends for the county. The Courier specifically looked at the state's data from March 22, when the first case was confirmed in Wapello County, through May 31. A logarithmic chart shows the county's rate of increase has significantly leveled off.
Why a logarithmic chart? Unlike the linear charts most people are familiar with, steps in a logarithmic chart are exponentially higher than the previous one. The first line on such a chart is usually 10, but the next is 100. The third is 1,000. So they're better at showing changes in the rate of increase.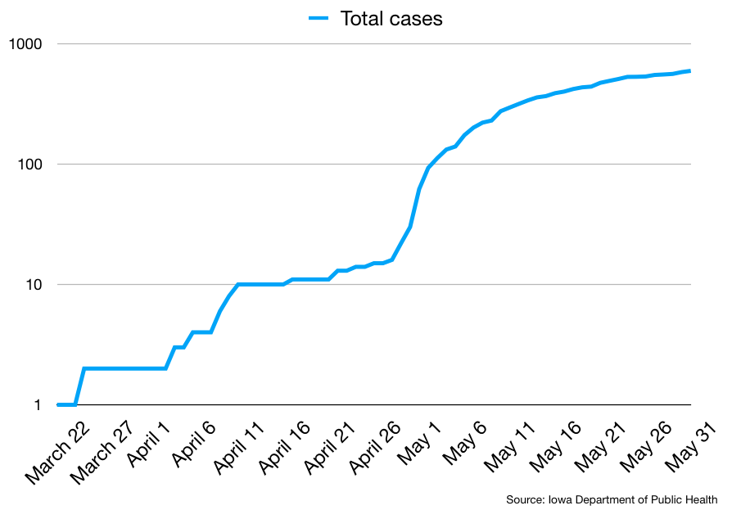 Since pandemics can spread exponentially, logarithmic charts do a better job of showing when they begin to slow.
That shift appears to be happening in Wapello County. While the number of cases continues to grow, the state's data shows a clear slowdown in how fast it's happening.
There's another way to see a similar trend. The five-day moving average of new cases in Wapello County has also decreased. That decrease has happened even as testing — with the exception of the Memorial Day weekend and the days immediately after it — remained at or near the high for Wapello County.
Gov Kim Reynolds sounded a note of caution during Tuesday's press conference.
"We've learned a lot over the last few months and will continue as we manage COVID-19 for the long term," Reynolds said. "The pandemic is not over, and there remains much work to be done."
Iowa's figures showed another death in Wapello County, bringing the total to 13.
The state does not break down recoveries by day at the county level, but its data shows about half of Wapello County patients have recovered. The county's data is more optimistic, with a recovery rate above 60 percent.
While things look encouraging now, it's important that people remember trends can change. Past pandemics came in waves. Some countries, notably South Korea, that appeared to have the virus under control have faced secondary outbreaks.
This past Saturday's testing, which saw a record for Wapello County, was also a record for Iowa. The state hygienic lab tested more than 5,200 samples.
"We also exceeded 5,000 tests again yesterday," Reynolds said. "The number of positive cases continued to trend down."
The governor also announced establishment of six regional stockpiles for protective gear. The stockpiles will "have a 30-day supply of [personal protective equipment] for each county in the region."