OTTUMWA — In a situation that is changing hour by hour, protocols continue to change in emergency services.
"We're trying to help the public understand how we're handling this as an entire community," said Tim Richmond, emergency management coordinator for Wapello County.
When someone calls 911, they will notice some of those changes. Dispatchers are now asking questions "to determine if you have been exposed to or are experiencing the symptoms of COVID-19," reads a flier put out on social media this week.
"Both dispatch centers are doing that, the county and the city," said Richmond. "That is to try and help our first responders be prepared and use our PPE (personal protective equipment) judiciously."
He said the county is running short on supplies, particularly the preferred N95 masks, like those used when working with drywall, to help keep responders safe. Some items have even been utilized beyond their recommended life in order to stretch supplies.
"We've been blessed to receive donations from the community," he said. "There's not a ton out there, but some contractors have reached out."
The county is not counting on an influx of supplies even as a national production ramp-up has been put in place. Those supplies, Richmond explained, are more likely to go to larger cities and area with much larger caseloads of COVID-19.
Richmond said he even took the step of purchasing some himself and handing them out. "We're not talking enough to get them through the week even. If anybody has those things sitting around they'd be willing to give up, they can drop them here or at the law center."
Every little bit helps, he said, even packages of ones and twos.
Additional new protocols in 911 response state that patients may only see one medic at first, who will likely ask questions from a distance before making physical contact while the rest of the team waits outside. Medics may also be wearing protective equipment such as masks, gowns and eye protection.
"Do not be alarmed, this is to protect our staff we that we may continue to serve this community," reads the flier.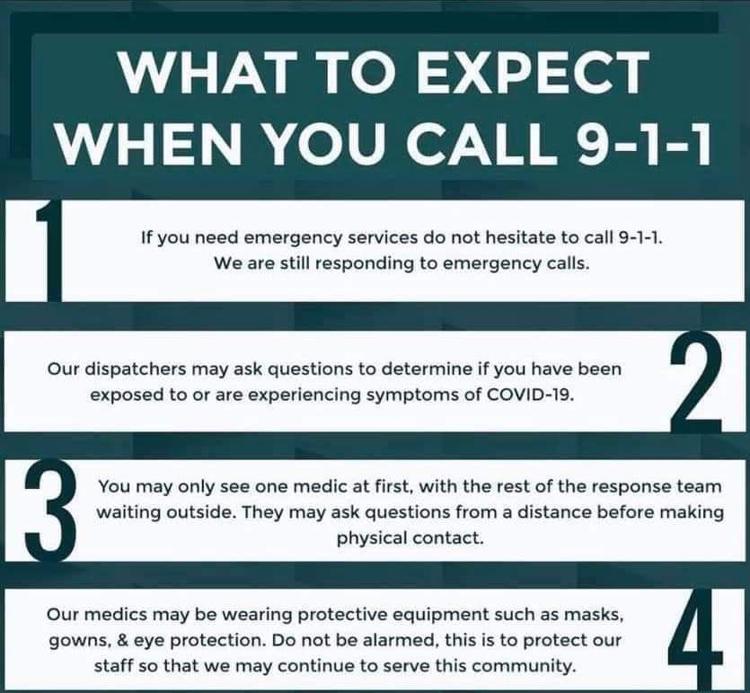 But Richmond is encouraging the public to only call 911 in true emergencies. He is asking those who may be experiencing symptoms of — or possible exposure to — COVID-19 or other illnesses to instead call one of the primary care providers in the county for assessment.
An additional flier put out by the Wapello County Healthcare Coalition 2020 offers a list of clinics and their phone numbers. It advises people experiencing fever, cough and/or shortness of breath to instead stay home and call one of the providers listed and follow their advice.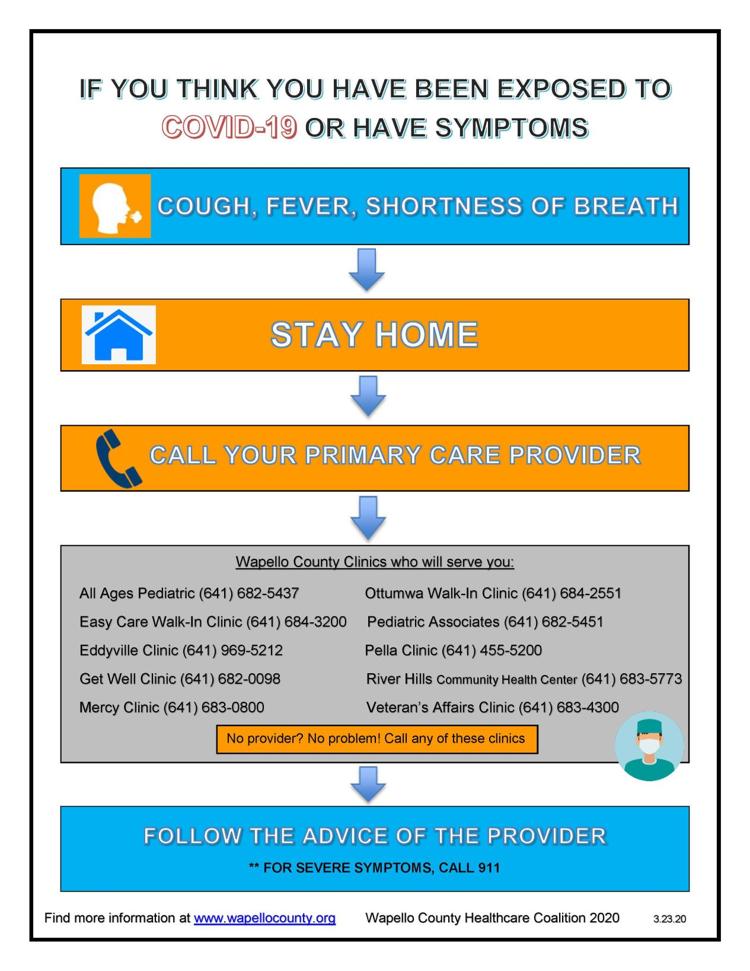 Richmond said by calling with their concerns, patients can explain their symptoms and get advice on when if they need to come for an examination or when to be concerned. It is also a means of keeping the hospital and emergency room from having an influx of patients.
"We need to reserve the hospital for people who are critically ill," he said. "Unless you're severely ill, don't call 911. Stay home, call the clinics."
Homemade masks
With the national shortage of PPE, volunteers have started making homemade masks to help get responders and other critical workers through the crisis.
"The premise is something is better than nothing," Richmond said "I'm leaving that up to each agency" as to whether they accept them.
"That is so tricky. The homemade masks, they're not made to a standard, so there's no protection guarantee. However, we don't want to discourage people from making them because there is some use for them."
His advice to those volunteers is to reach out to the individual agencies, such as the fire department and law center, and see if they would accept them.
He also recommended making them large enough to fit over an N95 mask. "Homemade, if made big enough to fit over N95, can help extend the life of N95 if we can keep them clean. God bless them for doing that."
Testing and isolation
Richmond said his office has been getting a lot of questions about testing, and it's an area where the county once again is running short.
"There's not an abundance of test kits like what they've seen on TV," he said. "There's a shortage of testing resources here; they're probably regarded similarly to PPE and will push them to areas they're need the most."
The Iowa Department of Public Health released the latest criteria for testing "due to the limited number of test kits that are available."
Testing will be provided for hospitalized patients with fever and respiratory failure and no alternate diagnosis; those age 60 and above with fever and respiratory symptoms such as a cough and/or difficulty breathing along with a chronic medical condition; those with a fever or respiratory illness living in a closed setting, such as long-term care, dormitories and correction facilities; and essential services personnel (health care providers, fire and EMS, law enforcement) with fever or respiratory illness.
He said that's why there's such a big push on educating people "on how to prevent the spread while we're in this fight."
"In an ideal world, we would love to do more testing because it helps us understand the disease more," he said. "We've got to keep hammering the message of how to take care of yourself at home."
Lynelle Diers of Wapello County Public Health offered new recommended guidelines on state-to-state travel.
"It's very important that understand that if they've traveled outside of Iowa, for business or pleasure, that they isolate for 14 days and take their temperature twice per day. Day one starts the day they return to Iowa and return home."
But that doesn't mean sitting on the couch in the living room and joining in family activities.
"If they do become ill, they need to stay home and self-isolate themselves from the rest of the people in the home," she continued. "It's important that they're confined to a room. If they have a common bathroom, they need to make sure they're cleaning it thoroughly."
While, as of Tuesday morning, there is only one confirmed case in Wapello County, Richmond said the worst has likely not hit yet.
"This may blow up at any time as symptoms take time to develop," he said. "We're going to be in this for a while yet; we've not seen the peak yet That's why it's so important people take this seriously.
"It's just literally not day by day anymore. It's hour by hour."