OTTUMWA — Europe's guns fell silent at 11 a.m. on Nov. 11, 1918. Soldiers who had fired at each other across no-man's land for four years ceased fighting. But World War I did not end that day.
The Treaty of Versailles, which formally ended the war, was not signed for another seven months. A state of war continued until June 28, 1919.
One hundred years later, Ottumwa is hosting an exhibit about the Great War. The WWI Honor Roll exhibit opened Thursday. For Rick Woten, the Wapello County Historical Museum's director, hosting the exhibition on the centennial of the war's end is an honor.
"The state historical society, in 2014, trying to recognize the centennial anniversary of World War I, started digging through their archives," Woten said. What they found was incomplete, and research over the past four years has helped fill in the gaps.
Inquiring about the exhibit was "one of the first things I did when I arrived here," Woten said. It makes a point of recognizing the Iowa soldiers who died in the war, but also attempts to tell the stories of those who lived through it.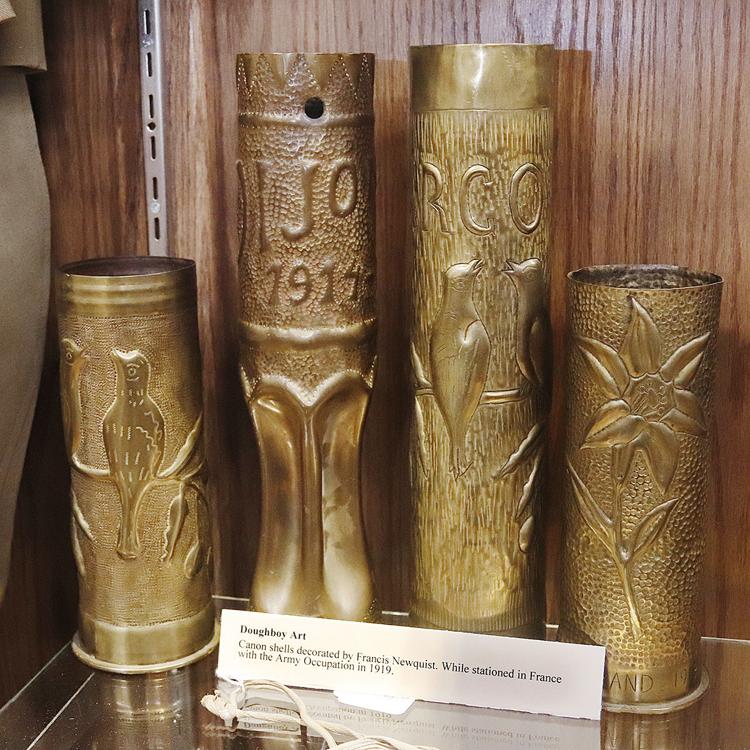 One of Woten's favorite pieces in the exhibit is a collection of what at first glance appear to be four brass vases. They were made by Francis Newquist. Works of art in their own right, the pieces become even more impressive when you see that Newquist made them out of spent artillery shell casings he collected at the front.
Another display includes two names Ottumwans surely recognize, Walter Schaefer and O.B. Nelson, along with one they probably don't: Walter Reno. Reno was born in Davis County, though his family later lived in Eldon. Reno graduated from the U.S. Naval Academy in 1905 and was commanding the USS Chauncey on escort duty in November 1917. The ship struck a British vessel west of Gibraltar.
The Chauncey sank, killing 21 men including Reno. But the ship had already made a remarkable journey. It wasn't part of the Atlantic fleet. Reno and the Chauncey were stationed in Manila, the Philippine capital. The Navy said Reno sailed his ship 11,000 miles "under very unfavorable conditions" when the U.S. entered the war. Reno was awarded the Navy Cross and the USS Reno, a Clemson-class destroyer, was named for him.
The chance to tell those stories, while visitors hear "Over There" and other period songs playing, is what Woten thinks is the most valuable part of the display.
"Now that we're 100 years out, they're not alive to tell their stories anymore," he said.
The exhibit will remain on display through July 30.