FAIRFIELD — If there's one thing every RAGBRAI host city knows, it's that you need volunteers to pull off a successful visit. A lot of volunteers.
For Michael Halley, one of the organizers of Fairfield's RAGBRAI events, there was a second challenge. Everyone understood the idea of a "Geared for Weird" slogan. But the steampunk theme? That required some teaching.
"At first some people didn't know what steampunk was," Halley said. "As they were introduced to it they saw it was a fun, playful thing."
Steampunk, for those unfamiliar with the term, is a form of speculative cosplay and fiction. It envisions a world in which steam power, not electricity, is the primary source of power. It draws on some of the early science fiction, like Jules Verne's "Twenty Thousand Leagues Under the Sea" or H.G. Wells' "The War of the Worlds."
Time travel, airships and people like Brother Barnabas Brass-Boilerplate, also known as His Radiance, the Steampunk Pope, are all part of the fun.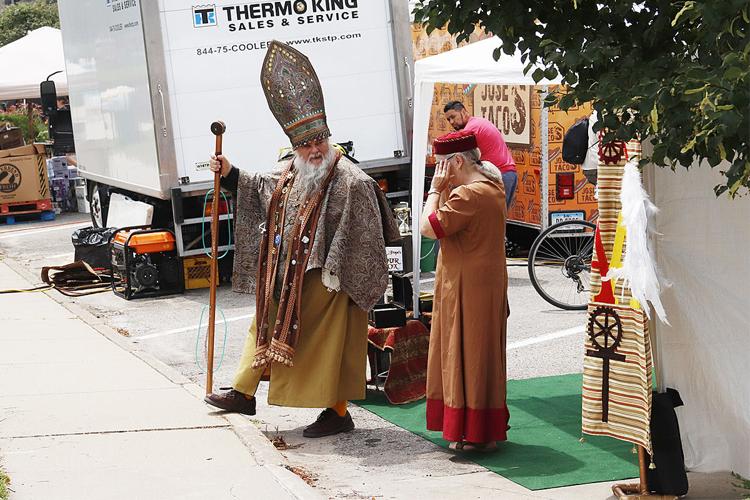 Barnabas' character came from one his identical twin brother created, the Irish Pope. He borrowed the costume for a convention, and people loved it.
"There were people going nuts over the costume. A couple people dropped to their knees in front of me. Some were drunk," he said with a wry grin. "It was the sober ones who freaked me out a little bit."
With his brother's creation as a starting point, Barnabas began creating a different character. He found a cassock in a thrift store. Draperies and tablecloths became the robe and miter. Other adornments followed, and the Steampunk Pope was ready to debut.
But what draws people to steampunk? In some ways it's not too different from the characters people create at Renaissance fairs and other conventions.
"It's the imagination. Creativity," he said. "Unlike cosplay, where people copy television and anime, steampunk is all original."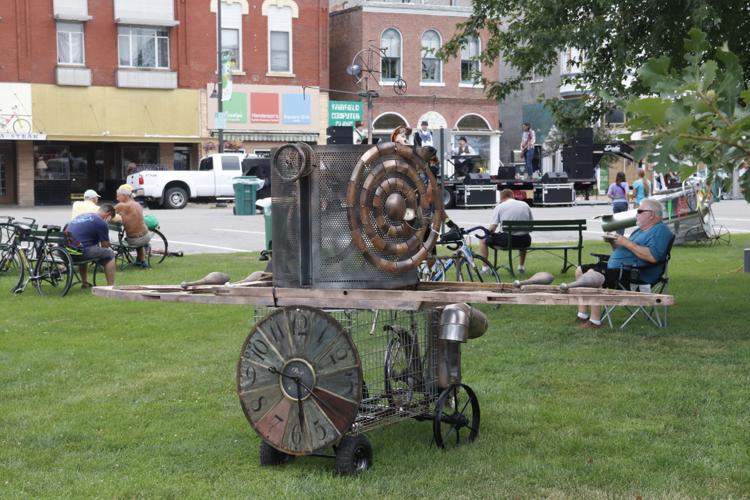 Fairfield being Fairfield, the placement of steampunk-influenced art around the town square was no surprise. There were bikes with wings, lots of brass and clock motifs. It all played into the fun of a theme some in Fairfield didn't know existed just a few months ago.
Halley, for his part, was happy with the way Fairfield embraced RAGBRAI. When it was last in town, back in 2013, the ride helped set a record for the most people wearing fake mustaches in one place. That record has since been broken. Plenty of people remembered that visit, though, and the experience helped pull things together this time.
He admitted there was some pushback, too. RAGBRAI is disruptive, no matter what. And trying to top what was done just a few years ago is always difficult.
"There's pressure to put on a good event, to try to take it to the next level," Halley said.
But as riders rolled in on Thursday, the focus was squarely on the fun. The clock was up, and organizers were out of time to welcome the party.
Which, at least in Fairfield, included a lot of people who looked like they were out of their time.