ALBIA — The former Albia teacher accused of having a sexual relationship with a student will spend five years in prison.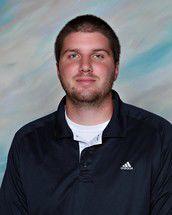 Zachary Simpson pleaded guilty and was sentenced Friday as part of a plea bargain worked out with prosecutors. He also admitted violation of a pair of no contact orders. The case sped through the courts. Simpson was charged in June with sexual exploitation by a school employee. His sentencing came less than four months later.
Simpson was a special education teacher at Albia High School and ran Drive Smart LLC, a driver's education company that operated in Albia, Knoxville, Prairie City and Pella.
There's another past Knoxville connection in the case. Simpson taught in Knoxville. He was hired as a special education teacher there in 2011 and coached the ninth grade boys basketball team. 
Court records show the charges against Simpson were amended to add contempt of court. That charge was filed after he contacted the student in the abuse case. A no contact order was issued two days after his arrest, a standard step in abuse cases. He apparently violated the order in July.
While it is unclear whether the violation had an impact on the plea bargain, courts don't appreciate people thumbing their noses at orders. Judge Kirk Daily extended the order at the sentencing hearing. It is now in effect for an additional five years.
Simpson also must comply with with the state's sex offender registry requirements for 10 years after he is released from prison and submit a DNA sample. He was fined $750 plus a 35 percent surcharge, for a total of $1,012.50. He must also pay a $100 sexual abuse surcharge, court costs and correctional fees.
The Iowa Department of Corrections does not yet have a location listed for Simpson. Male inmates are usually taken to the Iowa Medical and Classification Center in Oakdale before being assigned to another facility.