OTTUMWA — Like other nursing homes and facilities across the country, residents of the Good Samaritan Society's home in Ottumwa have had limited contact with the outside world for weeks.
The lockdowns limit visitors. While families still gather outside residents' windows, call or use services like FaceTime to stay connected, it's not like people are used to. It can't be.
It can be a battle with a dreary sort of sameness each day.
Monday's visitor was certainly not the same as most these days. Residents looked out around 1:30 p.m. to see Cinnamon, a llama whose coat matches her name, peeking in windows. Owned by Merle Mann and led by his son Troy, Cinnamon was a special caller.
Melissa Humble helped set up the visit. She said she saw something online about the Manns bringing Cinnamon to a facility in Oskaloosa, where they live. She saw an opportunity.
"I was like, 'Wow, how could we get that guy here?'" she said.
Technology provided the answer. Humble was able to get in touch with Merle, who was all in favor of the visit.
"I just called them and asked if it would be possible," he said.
Care facilities have emerged as one of Iowa's front lines in the spread of the COVID-19 virus. Nearly half of the state's deaths from the disease have been in long-term care facilities, despite the fact that many shut their doors more than a month ago.
Two factors help explain why that's the case. The virus spreads with remarkable ease. And it appears to be more lethal to the elderly, who often have underlying medical conditions.
It's not, in many cases, that the facilities waited to act. By March 11 Good Samaritan, along with other facilities in Ottumwa, had a no-visitors policy in place. There were only 14 confirmed cases in the entire state at the time.
There have not been outbreaks in Ottumwa care facilities, but the possibility remains. The policy continues, along with hopes it will be enough to prevent the kind of outbreak that has taken place at other locations around Iowa.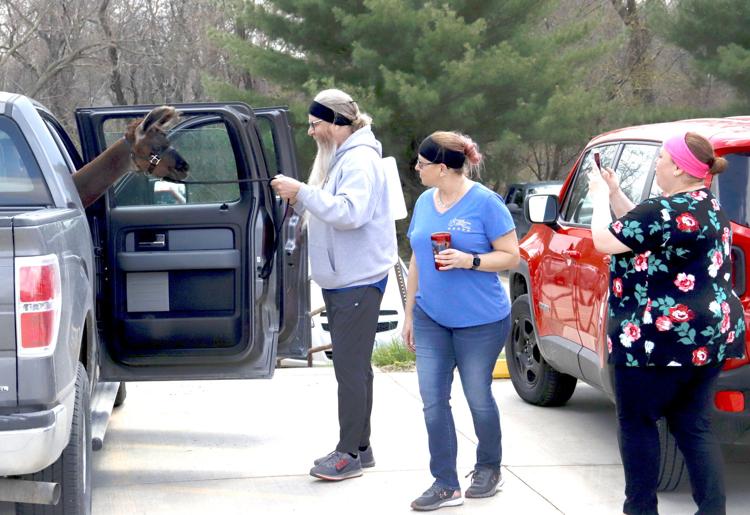 Cinnamon, of course, didn't much care about the numbers as she stepped gingerly from Merle's pickup into the parking lot on Monday. She drew an immediate crowd, as employees tried to get close enough to pet her without getting too close to each other.
A smaller group went window-to-window with her, taking the opportunity to make sure residents had the chance to view the unusual visitor. They took pictures as the star looked around, seemingly nonplussed by the attention.
It wasn't the same as having family members come through the door. But, for a few minutes, a llama at the window still brought some joy.