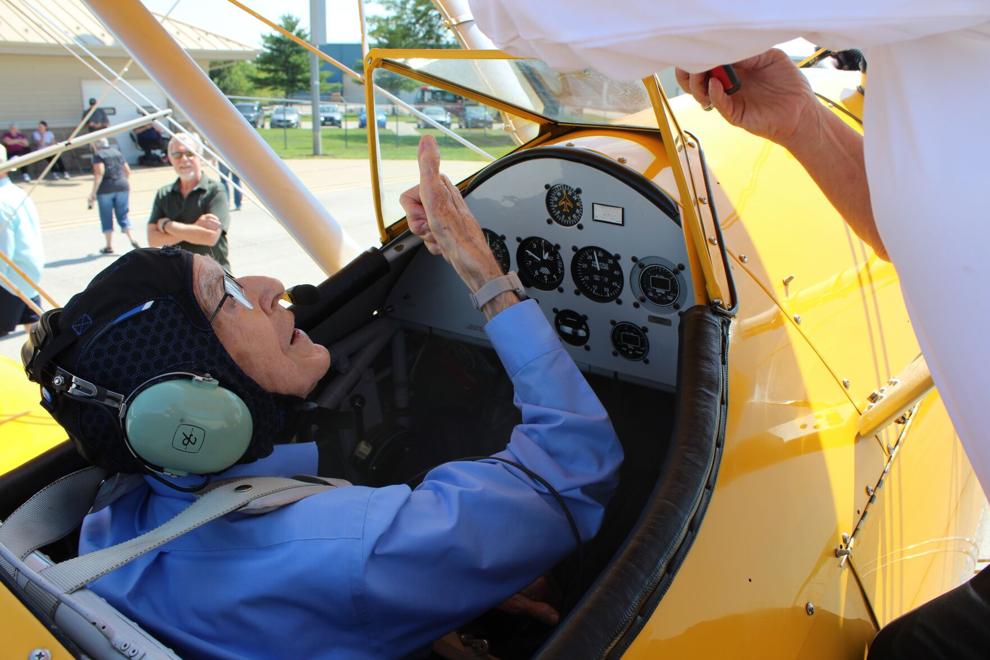 OTTUMWA — Three Ottumwa World War II veterans were honored for their service Monday by taking a step back in time.
Bill Jones, Chuck Osing and Allan Augustine took turns climbing into a Boeing Stearman World War II aircraft at the Ottumwa Regional Airport as part of the Dream Flights program. It's the same type of aircraft used to train military aviators in the late 1930s and the early 1940s.
"The 1942 Boeing Stearman was used by both the Army Air Corps and the Navy," said Mike Sommars, pilot with Dream Flights. "It was the principal, primary trainer for both of them. After they mastered the Stearman, they would get their wings, be commissioned as officers, and then they would go on in the advanced training, and then eventually the fighters and bombers of World War II."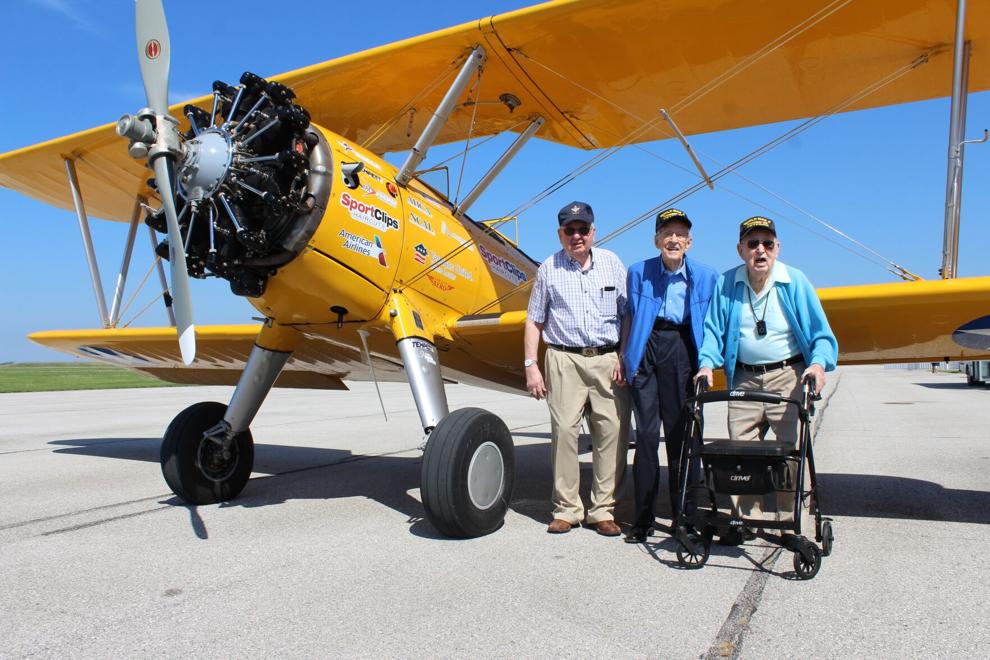 The program has been around since 2011, said Lynn Sommars, also with Dream Flights. She said since that time, they have flown more than 4,000 seniors across the country with 1,000 scheduled for this year. "To be able to thank them for giving us the lifestyle that we have is an incredible honor," she said.
When Steph Christner, life enrichment and marketing coordinator for Good Samaritan Center in Ottumwa, heard about the program during a marketing meeting over Zoom and started making contacts to bring it here. "Good Samaritan was partnering with Dream Flights to try to offer it to as many of their residents and tenants that they could," she said. The trio honored Monday live in The Lodge, Good Sam's independent living facility, and are the only three World War II veterans the facility currently houses.
"When I first brought it up to them, I think they were a little unsure but thought it would be a cool idea, and they're like, 'Absolutely," and they're excited to go this morning. They were ready to go at 6 a.m.," Christner said.
In a ceremony prior to the flights, Doug McAntire, chaplain for the local VFW and American Legion as well as the state Disabled American Veterans organizations, introduced the trio to the crowd at the airport.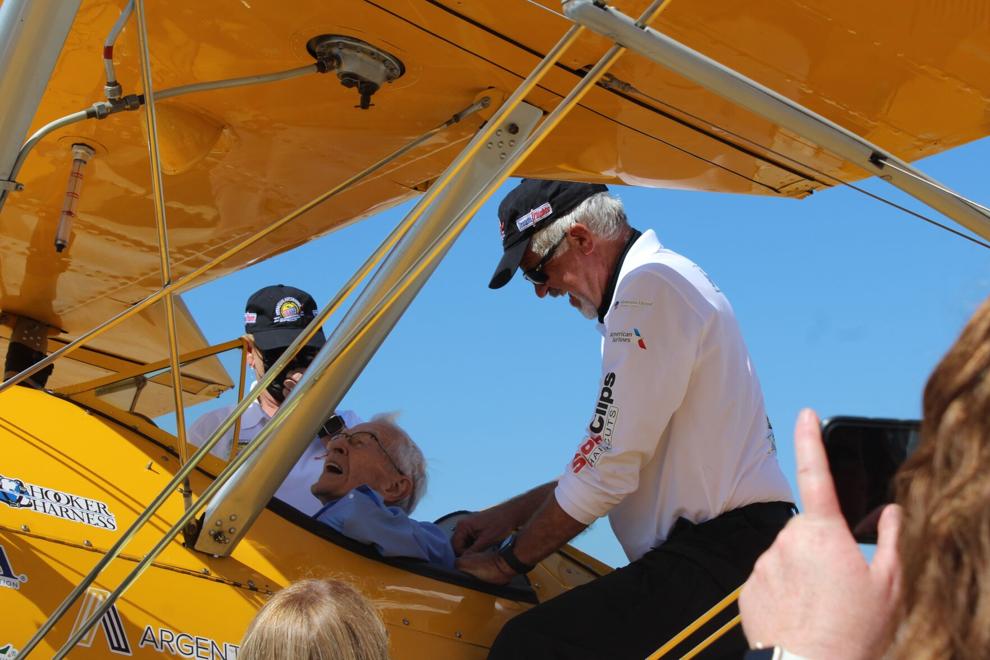 Augustine, age 94, enrolled in the Navy at age 17 in 1945, meaning his parents had to sign permission for him to join. "I didn't want to go to the Army, and they were drafting," Augustine said. His dad had served in the Army during World War I and saw lots of intense battles. That led to his decision to choose the Navy. "My brother did the same thing," he added.
He did basic training at the Great Lakes Naval Training Center in Chicago, then went to more training in a suburb or San Francisco and was set to go to Japan as the war was ending, McAntire said. Augustine served on the USS Warhawk with stops in Hawaii, an overnight in Okinawa and then went on the Shanghai. "There they waited for the tide to come in so they could download the ship. Then they went to the north coast of China and had to wait for minesweepers," McAntire continued.
"I wouldn't trade it for anything," Augustine said of his Navy service.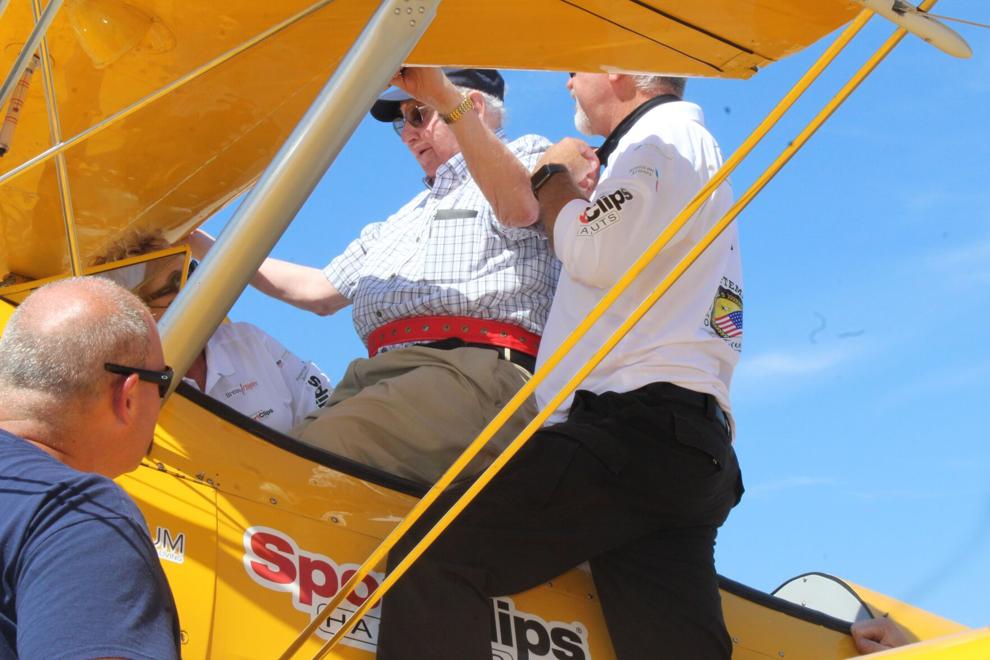 Osing is a 97-year-old Army veteran, serving from 1943-45. He did basic training in Texas and was stationed in Seoul, Korea, for 18 months, McAntire said, with the hardest part of the stay being the language barrier. He served in communications and then as a supply sergeant.
He didn't do a lot of flying in the war, so he was looking forward to Monday's flight. "They flew us to Japan, dumped us off there and brought us back from there," Osing said. He said he went over on a troopship. "A boatload of soldiers invaded Japan at the same time. We were headed for the battle zone, and they signed the treaty two days before we got there. We were very lucky."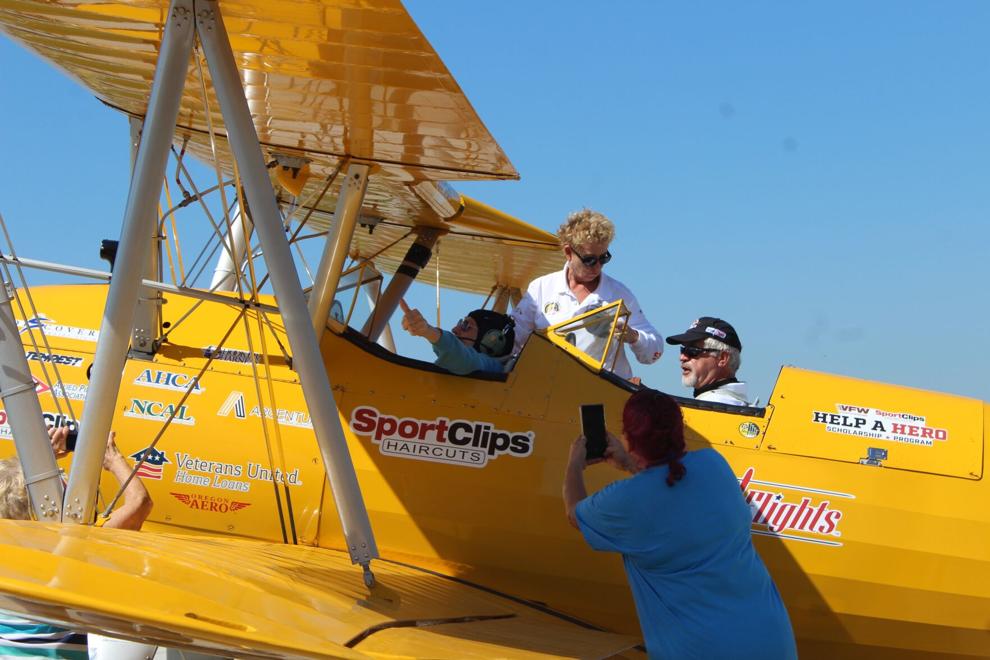 Bill Jones, at 100, was the first on the plane in Ottumwa Monday. He served in the Army from 1940-45 with basic training in Fort Bragg, North Carolina. He then went to New York City, then France. "He said they moved a lot. He was very blessed that he never saw combat, but they were always on the move," McAntire said. Jones worked in the medical field in a field hospital.
He was excited for Monday's event, thinking his days in the air were behind him. "I haven't been up in the air in a long time," he said. "I've flown these things many times during the war. I haven't been up in one of these in quite a while. I hope it's fun."
All three veterans were excited for their flight, no nerves in sight.
"It's just a great honor to be able to come here. Everybody's been so gracious," Osing said. "I think this is so great. I feel so honored I get the chance to do this."
"I'm looking forward to it. I think it's a great thing," Augustine said. "I never figured it would happen to me, but I'm glad to be able to do it."
Asked why she was so eager to set up the experience for the veterans, she said it was to honor them. "A lot of times anymore it seems like they're being forgotten about. There's not a whole lot of them left, and this is the best generation of all time," she said. "I think it's important to honor them and let them know that they mattered."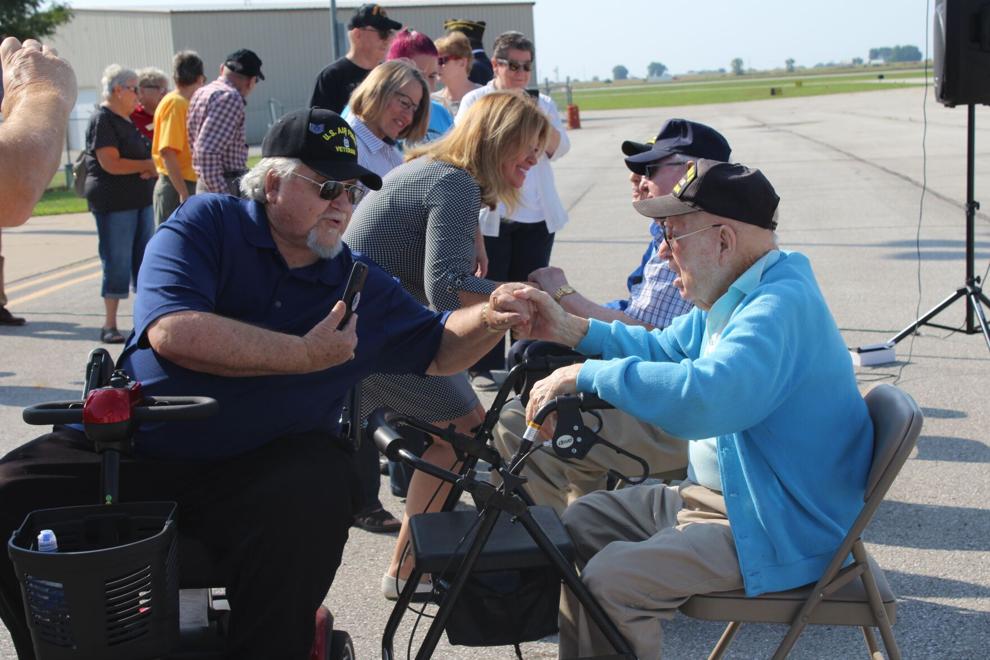 McAntire was of the same mind, saying the world is rapidly losing the chance to hear the stories of these veterans. "The World War II veterans are dying at the rate of 245 a day. That's a pretty fast rate," he said. "We as a people can learn a lot from this generation still.
An, as he closed out the biographies of each men, with a wavering voice he said each "raised his right hand and signed on the dotted line, which meant he was willing to die for this country."