OTTUMWA — Grace Ottumwa announced its new, permanent location Sunday morning.
The church has chosen the office park at 13133 Angle Road for its future location, which currently houses Tennyson Enterprises. Pastor Chris Childs said the church won't be able to move in for at least a year, depending on how much renovation is required.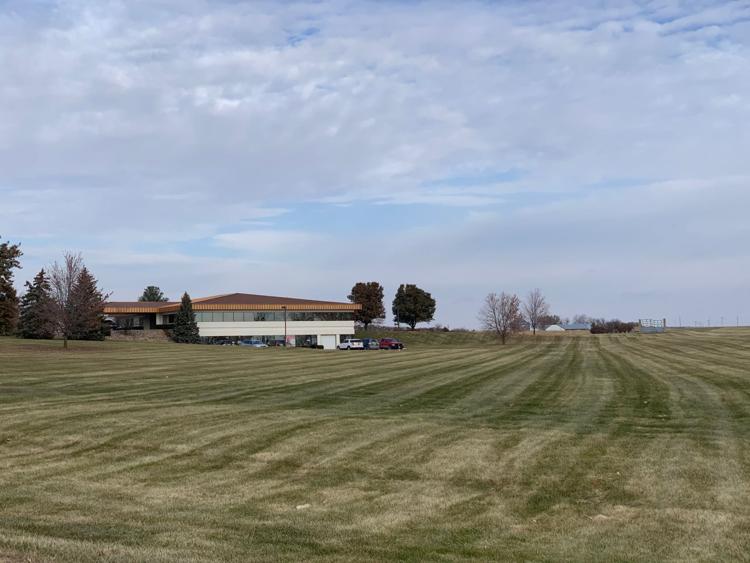 "It's a beautiful site," said Grace Ottumwa member Bill Woodruff. "The location can draw from a big area, and it looks like it's accessible. It's a beautiful building, and it should serve our future needs."
A few expansions have already been planned. The building is currently about 20,000 square feet, and the church plans to add a 5,000 square-foot sanctuary and 150 extra parking spaces.
"I'm very happy with it. I think it's a beautiful building," said church member Lory Chaplin. "What I love is the green space around it, because there's so much potential there. You could have a little park for the kids, you could have a playground, you could have a baseball diamond, plant a garden, go on hikes. There are so many things you could do."
Grace Ottumwa formed earlier this year, when the three United Methodist congregations in Ottumwa put their buildings up for sale and merged. The church has been without a permanent location since. It currently meets in the OHS cafeteria.
Despite the logistical difficulties, Childs sees the experience as a chance to grow. During the location announcement, he compared Grace Ottumwa to the Israelites in the desert, living in tents while they awaited entrance to the Promised Land.
"What's exciting for me about this time not having our own building is that it's bringing people together," Childs said. "It's getting people working together, and looking outside the walls of the building, because we don't have one, and saying 'how can we make a difference?' So that's part of the culture we're trying to build before we move into our location."
Brooke Fischels, who led the search for the new location, had a similar sentiment. However, she's looking forward to the change.
"Set up and tear down really brings us together, we bond over it, but it also wears people out," she said. "You come to church way early and stay way late just to make this place not look quite as much like a high school cafeteria."
Fischels said she wanted the congregation to apply that energy elsewhere, such as toward community service projects and civic engagement.
"We live in one of the poorest counties in Iowa. This is our mission field," she said. "We could be doing a lot more. We're doing things more, but the same people you're tapping into to do set up, tear down, storage, are really the people we'd like to be tapping to do other things over the week."
The church will move into the former Bethany Baptist building, now Sinnott Funeral Home, in December, which will serve as a semi-permanent home until renovations are complete at the new location. Those with questions can contact Pastor Chris Childs at pastor@graceottumwa.org, or by phone at 641-682-9464.