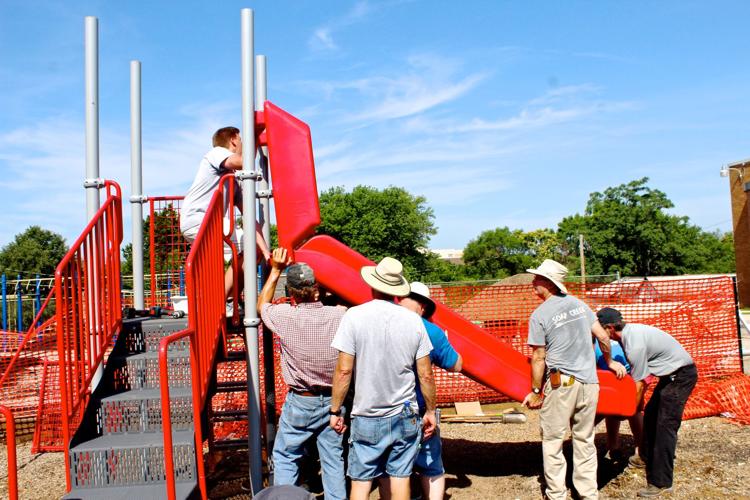 OTTUMWA — Principal Jeff Hendred had only one word as he surveyed the activity around the Wilson Elementary playground Thursday: Excitement.
One one end, a crew was busy installing two new slides, complete with decks, shading, hand-over-hand bars and interactive panels. On the other end, volunteers were busy painting lines for a soccer field. And in between, a map of America and four-square areas — one brand new — were getting a paint makeover.
Matt Rose, branch manager of Keurig-Dr Pepper, was busy helping install the new playground equipment, which was funded through a KaBOOM! grant and the Wellmark Foundation.
"This is our second one this year in Ottumwa," Rose said. Earlier this year, they did an installation at the Seton Catholic School playground. Friday, he said they'll be busy with a big installation in Marshalltown.
The Wilson project was a smaller scale for the organization. "It usually goes pretty quick," he said. "We're scheduled to be here until about 2 [p.m.]"
With the excessive heat warning in play, getting done early was definitely on the minds of volunteers. Hendred said the workers installing the equipment, including members of the district's maintenance department, got an early start, around 7 a.m., to avoid the worst heat of the day.
"We have plenty of products we brought for everybody to drink and stay hydrated," Rose said.
As Hendred surveyed the playground, he said the other projects should be done by the time the worst of the heat was set to move in. "They're simpler projects. They should go quick and we should be able to get them out of here before the heat really hits," he said. "Anything left over will be small."
In fact, one family had inquired about coming out in the evening to volunteer as their work schedule got in the way of volunteering during the day. Hendred said that might be a good time to tackle those smaller, leftover parts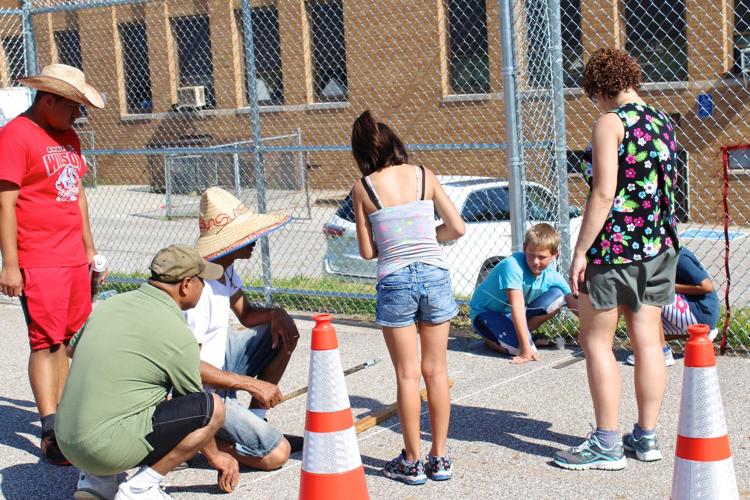 Work on the soccer area has been an ongoing process. Hendred said that in response to kids playing soccer balls into the fence, they received a Rotary grant for special fencing shaped like a real soccer goal. Those were installed in the spring, along with two adjustable basketball hoops. "We're calling it a hoops and shoot area," which will be completed with two benches and a trash can, also donated by Rotary.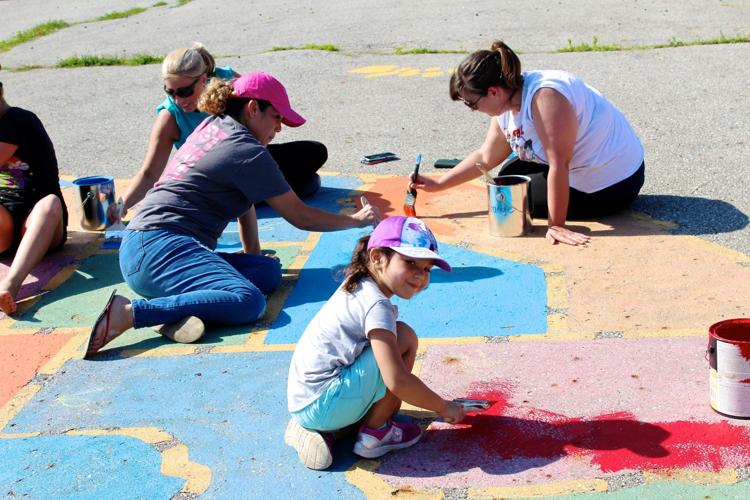 As Hendred directed work on the soccer area, where volunteers were painting lines to create a playing field, Crystal Leyva, 4, was busy working on a map of the U.S. "I'm painting," she said. She came out because her mom, Salud Leyva, is the school's secretary. She said she picked red because it was the prettiest color available. While she was having fun volunteering, there's one part of the playground she's most excited for: the new slides.
"The kids have been waiting for equipment," Hendred said. "What they have been doing is climbing a deck and going down a pole. That's all there was."
And when school starts back up next month, he predicts the students will be filled with joy and excitement to have their new playground. "It'll give them the feeling that the school is important, that people came in to make it beautiful for them," Hendre said.
"It's exciting for me to see the community coming together. It'll become a park again."
Features Editor Tracy Goldizen can be reached via email at tgoldizen@ottumwacourier.com or followed on Twitter @CourierTracy.