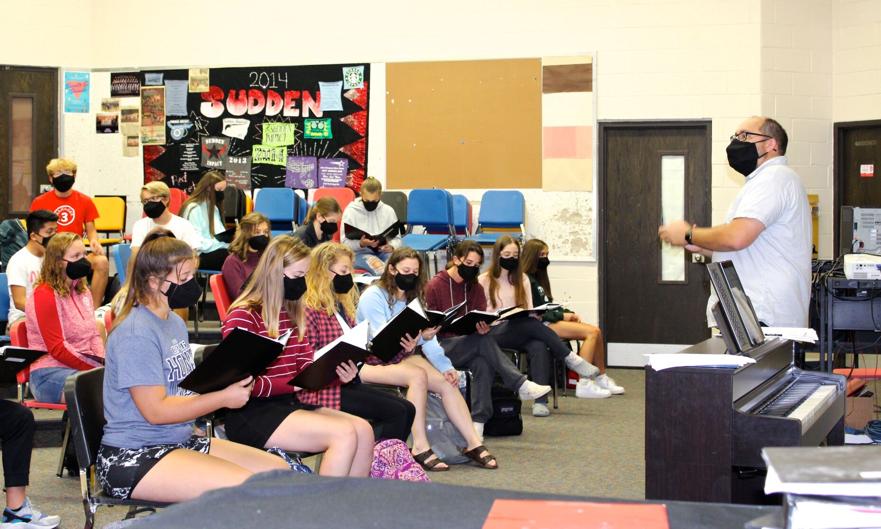 OTTUMWA — For the music instructors at Ottumwa High School, National Arts in Education Week is more of a celebration in perseverance.
"We want to let people know we're still here," said Dennis Vasconez, vocal music instructor. "We feel the arts are important in students' lives in many ways. We're very thankful we're able to offer this to them."
The week serves as a chance to remind the public of the role the arts play in the lives of those involved, with the celebration being more of an advocacy week than anything.. "Skills they learn in the arts can be taken with them their entire life," said Vasconez, including in their jobs, family life and hobbies.
Statistics show involvement in the arts leads to higher GPAs and an increased percentage of those attending post-secondary education, he said.
"There's so many life lessons they gain from the activity," said band director Troy Gerleman.
"We have a healthy program because of different ensembles kids can be a part of," Vasconez said. In the music department, Ottumwa students can join as early as fifth grade with honor choir, band and orchestra being offered at that level.
But, just like everything else, COVID-19 has forced some adjustments.
For right now, all vocal programs will be done by virtual performances and recordings with no live audiences. Normally, Vasconez said, there's a concert in October. "I don't even know what that's going to look like," he said.
Additionally, All-State auditions, normally done live in groups of two to four people, will be pre-recorded solos. "I don't know that's ever happened before in Iowa," Vasconez said, adding that the students have been working hard and been patient with the changes.
Over on the instrumental side, the 2020 fall marching band competition slate was canceled. So have the Oktoberfest and Homecoming parades. However, Gerleman is making adjustments for his students to get their performances in. They'll still perform at halftime of the home football games, currently scheduled for Sept. 25, Oct. 2 and Oct. 9.
"We have two home games for sure. The third home game is [a Des Moines school]. With their battle with the state, that's up in the air," Gerleman said. "It's weird Oct. 9 will be our last game. It'll be senior night."
This year's program will be "Together As One," which was created in response to the pandemic. It is a universal marching band production that can be performed by mass groups in a universal setting. "The show design is even being written to be COVID-19 compliant, with proper spacing of intervals with students," Gerleman said at the beginning of the season.
In fact, the program is working with Oskaloosa High School and the William Penn University band to possibly hold a joint performance of the music at halftime of William Penn's Oct. 22 game.
Also on the slate for the band is All Bands Night, which will feature each band from grade six on through the high school level, with them all coming together for a joint performance at the end. That is currently set for Oct. 22 at Schafer Stadium but will be moved to Oct. 20 if they end up performing at William Penn; the audience will be limited to four tickets per band member.
But it's not just performances that have been affected. Both groups of performers have had to adjust to wearing special masks at rehearsals. Grace Ottumwa made special singing masks for the choir students that stick out more, helping the singers breathe.
"It does help. I could hear them a little bit more and it's clearer when they sing," said Vasconez. "This allows us to sing; we're very fortunate for that."
Superintendent Mike McGrory mentioned the masks during Monday night's school board meeting, thanking the church not only for that donation but the donation of more than 2,000 general use masks for the district.
"It's an incredible donation," he said, noting that regular masks run $10-$15 apiece with the singing masks more in the range of $40 each. "I can't thank them enough."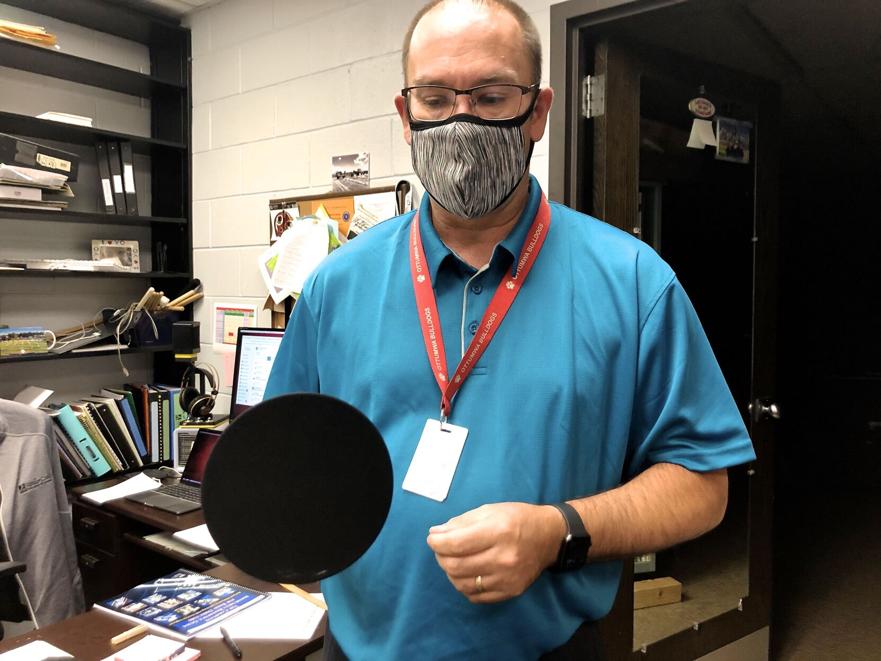 The band is also working with special masks. These masks split down the middle, allowing for total coverage when the students aren't playing their instrument. When it's time to play, they can insert the mouthpiece through the opening. Gerleman said research by the University of Colorado at Boulder determined that having the masks helps reduce aerosols. The instruments themselves also have bell covers, which reduce projectile aerosols.
"It helps make our environment safer," he said.
Both rehearsal spaces have also been rearranged to allow for more spacing, and special MERV 13 air filters, which Gerleman says are the highest-rated filters, in the wing help purify the air several times per hour. The HEPA filters clean the air five times per hour, he said, while the recommendation is three times per hour.
And when they can, the band gets outside to practice. "We've been blessed so far with the nice weather. It lets us get outside," he said, with rehearsals set to move to Schafer Stadium this week. "They experience both [weather] extremes," he said, with the beginning of the season in the heat of August, continuing through the increasing cold in mid- to late October.
"I've just been overwhelmed. These kids are just working so hard. I'm really impressed with the quality of work these kids are putting in. You would never know we're in the middle of a pandemic."