OTTUMWA — Curtis Thomas served in the U.S. Navy. He was stationed at bases across the country, from Virginia to California.
"I was a cook. Then I transferred over to career counselor," he said. In all, he spent more than 20 years in the Navy.
Thomas went to Monday's Memorial Day ceremony at the Jimmy Jones Shelter to honor the people who served, but didn't come home. The keynote speaker was Sen. Joni Ernst, herself a veteran.
"I've spent my share of Memorial Days explaining why Memorial Day is more than barbecues, and pool parties," Ernst said, but she added that's not a message Wapello County needs.
Ernst spent the bulk of her speech talking about the details of some of Wapello County's servicemen who died on duty. The details of their service are important, she said, but it is also important that people look beyond the uniform and see the people who wear it. Those who died had their own lives beyond their duty; they had friends, families and dreams of their own.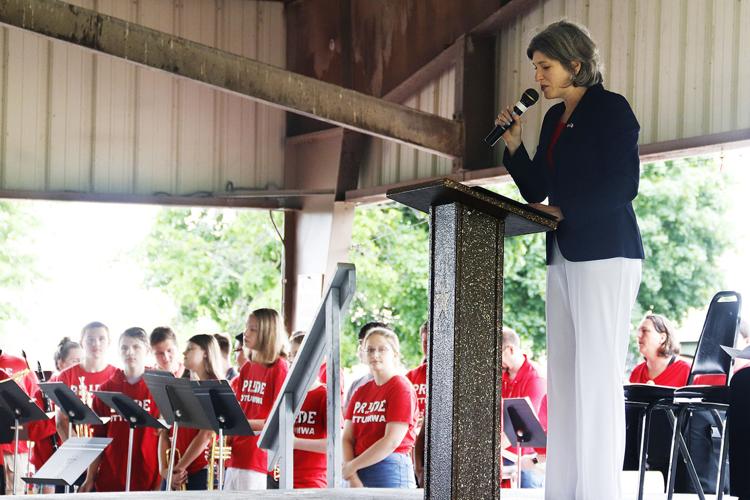 Ernst spoke of 20th century servicemen who died in World War II, Korea and Vietnam. The fights are different today, she said, but not the commitment.
"In recent years we have a whole new generation of Wapello County heroes who have followed in the steps of those who came before," said Ernst.
The new battles are a concern for some of those who faced combat in previous generations. Thomas' passion for the service is clear. But he's concerned about whether the members of today's armed forces are getting the training they need. The reliance on the National Guard allows the military to keep active duty numbers down, but Thomas worries about gaps. He worries that the rules of engagement have not kept up with changing battlefields.
"They're not being given the proper tools to use. We're not fighting wars anymore. We're fighting terrorism," he said.
Those concerns don't change one thing that comes through clearly, though. The oath he took to defend the country doesn't have an expiration date. Thomas said he may not be able to move as well as he did when he was in uniform, but his aim is still true.
"To this day, if they need me, I'll be there," he said.