CENTERVILLE — While Indian Hills Community College officials remain silent on the reasons behind the departure of two baseball coaches last May, several players believe they were forced out by an internal investigation into allegations of misconduct.
Among the issues, the players said, was an accusation head coach Cam Walker and assistant coach Steve Kletke provided false names to foreign players so they could work for security companies at off-campus athletic events such as the Iowa Hawkeye football games.
The security companies, in turn, normally contributed money to the baseball program, an investigation by the Daily Iowegian determined.
The foreign players held student visas to study at Indian Hills, but they were not eligible to work off-campus under U.S. Immigration restrictions. They were given aliases of former players and members of Walker's family.
"If (the players) would have been caught, they would have been deported to where they came from and they would never be allowed back here," said former player Colin Potrzeba of Omaha, Nebraska.
Potrzeba and Endry Brito, of Oranjestad, Aruba, were two of five baseball players who spoke with the Daily Iowegian. Three others asked for anonymity for fear of affecting their future careers.
Indian Hills President Marlene Sprouse and other college officials declined to comment on the allegations of misconduct. They said Walker and Kletke were not fired nor did they resign, but that their contracts were not renewed. Both coaches declined to be interviewed for this story.
College officials were twice asked by the Daily Iowegian for copies of the coaches' contracts, replying they did not exist. The college did provide at-will letters of employment listing salary but no end date. The letters were not signed by the coaches.
Asked if the lack of a contract would mean the employees were in fact terminated, Kristy Latta, an attorney for Indian Hills, said the college was not legally required to offer an explanation.
Latta said Walker was under contract only for his job as an instructor at the college, and that he resigned that position Aug. 29. The college said there are no records relating to the resignation.
The players who talked with the paper said coaches required them to work security details at the University of Iowa and Minnesota Vikings NFL games the last two seasons under an arrangement with a group fundraising program.
Last year the players worked for Contemporary Services Corporation (CSC), a security and crowd control company.
James Service, vice president and general counsel for CSC, said the company had "no comment at this time."
Visa rules are complicated and can be confusing, immigration experts said. But giving false names to foreign students to participate in the off-campus program would not look good, they said.
The players said this practice, coupled with mental and physical abuse of players, led to the dismissal of Walker and Kletke.
The Indian Hills baseball team had a strong season in 2018, compiling a 36-22 record and coming within two wins of a regional championship.
A member of the National Junior College Athletic Association Hall of Fame, Walker had completed his 26th season as head coach at the time of his dismissal. Kletke had served two years as his assistant.
According to attorney invoices reviewed by the Daily Iowegian, Indian Hills contacted Des Moines law firm Ahlers & Cooney, P.C. — a law firm they frequently use — on May 9 to "prepare notice of nonrenewal of coach position." A day later, the law firm and the college worked to "develop messaging for employee matters."
Billings indicate a teleconference between the law firm and Indian Hills human resources director Kristen Parks on May 14 regarding media public records requests. The date coincides with the first of many requests by the Daily Iowegian regarding the coaches.
WHAT BEGAN INVESTIGATION
Potrzeba, a first-team all-academic, believes his initial complaints about the baseball program set off the college investigation.
Brito, who was recognized as an "outstanding student" at the spring graduation at Indian Hills, quit the baseball team in March. Potrzeba followed suit two weeks later.
All the players who spoke with the Daily Iowegian said they witnessed Walker providing the false names to foreign players so they could work in the group security fundraising program.
Potrzeba said he discussed his experience with the college officials for roughly three hours, referring to notes he'd compiled with the help of other players. He said college officials made copies of the notes.
Other players also spoke to college officials during the investigation, Potrzeba said.
"I basically just told them everything that had gone on," said Potrzeba. "And they were like, 'This isn't going to be a two-week fix, you know. This is going to take some time for us to take action with it.'"
The Daily Iowegian has asked twice for documents relating to the investigation, even with redactions, but college officials have declined to provide them on the grounds they are personnel documents exempted from public disclosure laws.
SECURITY TRIPS MANDATORY
Players who spoke to the Daily Iowegian said the trips to work security as a team fundraiser weren't optional.
"They literally said if we don't go, 'You don't belong on the team because if you don't want to support the team, you won't be part of it,'" Brito said. "So it was mandatory."
Players, who spoke anonymously, said they felt the punishment would be severe, including removal from the team if they didn't participate in the security work trips. Foreign players were notified of their aliases by a coach or a posting on the team bulletin board.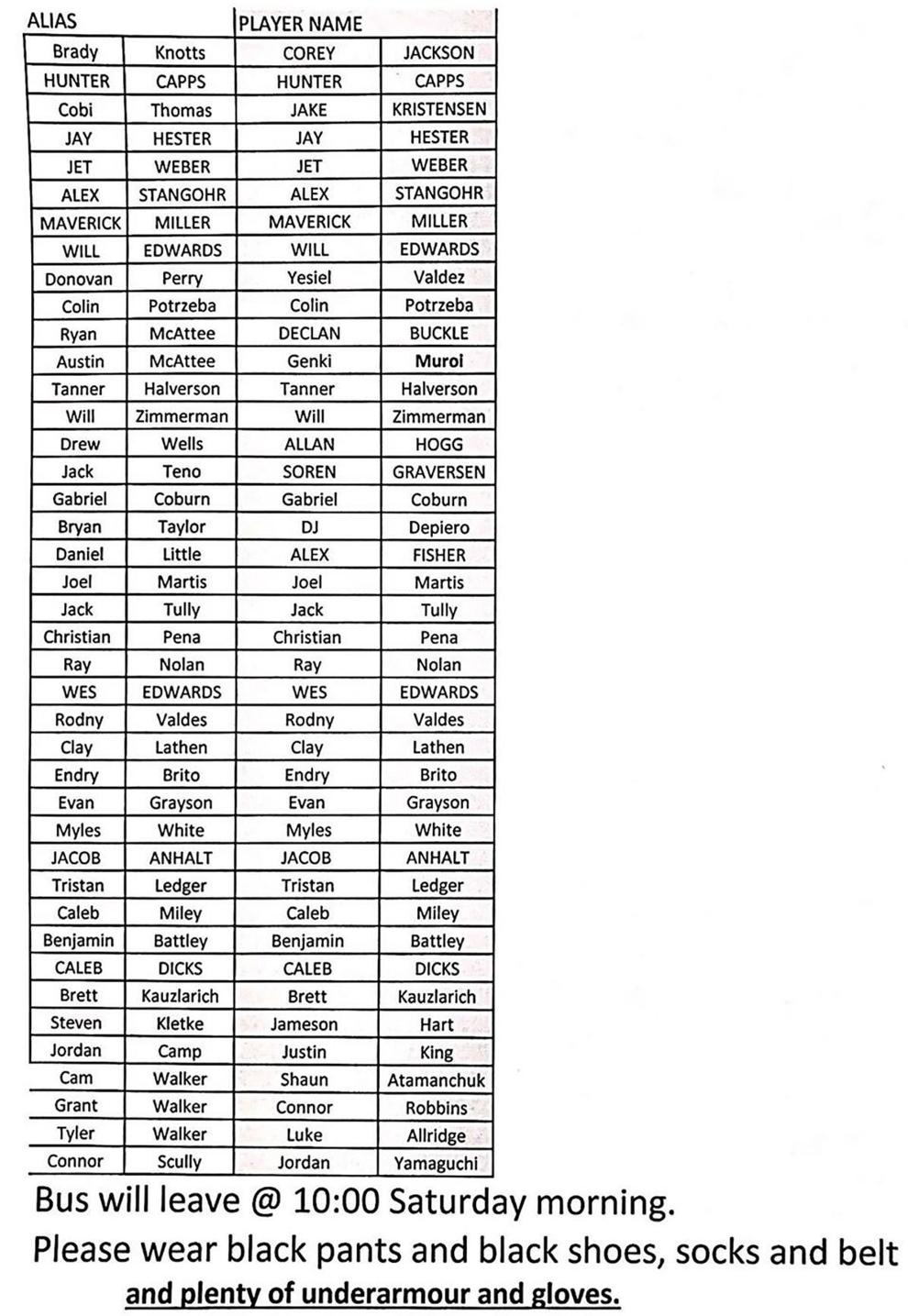 Potrzeba provided a photo of what he said was one of the team lists. It contained a column of aliases next to a column of player names. Other instructions, like what time to arrive and what to wear, were included at the bottom.
Toni Floback, the CSC employee who oversees the group fundraising program at the University of Iowa football games, said students who work security must be 18 years old, eligible to work in the United States and be able to pass a background check.
"Unfortunately," she said, "if they only have an education visa we cannot allow them to work events with CSC."
Where proceeds of this work went is unclear. Floback, not speaking specifically of Indian Hills, said payments are typically sent to the group leader, "whether that is a coach at a college or a leader from a nonprofit."
The Indian Hills baseball team over the past two seasons worked for three companies: Stadium Fund Raising Group, Inc., Whelan Security and CSC.
Financial records obtained for the past two school years show deposits made by two of those companies to Indian Hills baseball program, but no payments from CSC during that period.
Iowa public records laws allow for voluntary disclosure of investigative records on personne…
In the most recent school year, the baseball team's account received $26,162.60 from Stadium Fund Raising Group, Inc. The previous year, the baseball team received $37,503.30 from Whelan Security and $15,900.30 from Stadium Fund Raising Group.
Whelan provided security for the University of Iowa until CSC took over last fall.
CSC wouldn't comment on where the funds from their company were being sent. Players provided photos of themselves and teammates at events wearing clothing with CSC logos.
Gary Hagan, who runs Stadium Fund Raising Group, said his company acts as a liaison between fundraising groups and various security companies. He confirmed his company did work with the Indian Hills baseball program.
He said his company gathers volunteers to help security companies fill positions such as parking attendants or ticket takers, and in exchange sends a donation to the team once the work is completed.
Hagan said Walker was one of his favorite coaches to work with, and that he was surprised to hear of the college's decision to let him go. Hagan was not aware of the allegations that foreign players not authorized to work off-campus were working the security positions under false American identities.
"We just basically call the coach and say, 'Hey, you got any volunteers that want to work,'" Hagan said. "The stuff that we were involved with is generally mostly nonessential positions."
MENTAL, PHYSICAL ABUSES
One player described the culture of the baseball program as a "fear culture." Another likened the program to Guantánamo Bay. Potrzeba said it was like an underground concentration camp. Most players who spoke to the Daily Iowegian said they were glad it's over.
The allegations against Indian Hills Community College's baseball program are in a gray area…
Players recalled a practice inside the team's indoor multi-use practice facility when players were running laps, and one of them spit on the turf, causing coach Kletke to launch into a tirade.
They said the coaches imposed physical punishment for certain things. One example given was batters moving away from close pitches instead of letting the balls hit them. Players reported the coaching staff would tally these up, then every few weeks the entire team would have to do partner drags for each one.
Partner drags, similar to a bear crawl, involved two players, according to players who spoke to the Daily Iowegian. One player would get in a push-up position while another player lay below, wrapping their hands around the first player's neck. The first player then would bear crawl with that player's weight over a distance. The crawl would be repeated for every time a player had dodged a pitch in the batter's box.
Potrzeba said the punishment gave him a hernia. "I felt a sharp pain in my abdomen and I stopped," he said. "When I went to the hospital they said I had a hernia."
Potrzeba was told to take two months off for recovery. He said three weeks into that recovery, Kletke began harassing him, telling him he was soft. Potrzeba ended up coming back early.
At a doctor's visit in August, Potrzeba said, he still had remnants of the injury nearly a year later.