OTTUMWA — The Ottumwa School Board will go over the district's Return to Learn plan and be updated on the superintendent search during Tuesday's meeting.
The format, template and plan for the completion of Ottumwa's Return to Learn will be presented to the board. "Each of the seven areas essential to planning are broken down with leads and teams that will be working on each aspect of the plan," reads the agenda.
In addition, a team has been named to review the plans and provide feedback and support needed throughout the district's buildings. "These individuals will work on creating a draft of information in areas listed within the plan including leadership, infrastructure, health and safety, Iowa academic standards, social/emotional learning, equity and data considerations," reads a memo to the district leadership team (DLT). "The success of this plan will depend on all of us working together."
The memo says the district's plan includes six categories with 51 different actions; each action has been assigned to an individual to act as the lead or to groups to tackle together.
"This team should also be an integral part in assuring that all building staff members are aware of current plans and procedures by relaying the information learned at DLT with their building BLT teams and then to the remainder of their staff," reads the memo.
The DLT team will begin weekly meetings Tuesday and continue through June 23.
The board will also review a flyer advertising the open superintendent position as well as go over the results of a community survey on traits residents seek in the next superintendent.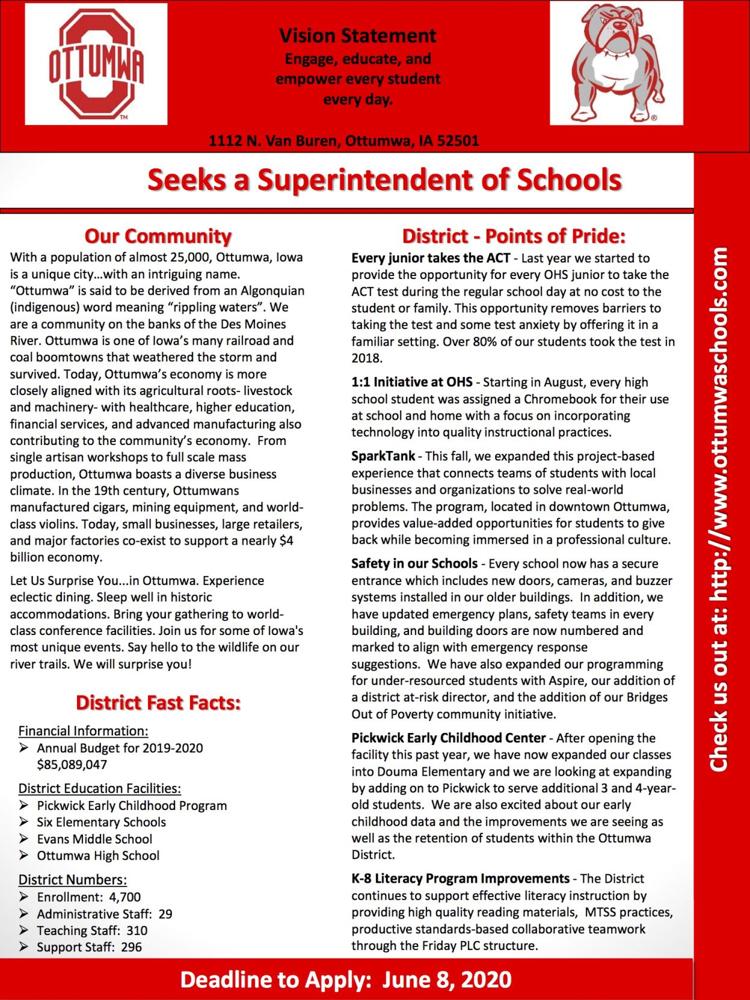 Top qualities include: Is willing to listen to input but is a decision maker; possesses the leadership skills required to respond to the challenges presented by an ethnically and culturally diverse community; inspires trust, has high levels of self-confidence and optimism; a strong communicator, possesses excellent people skills and can present a positive image of the district; and is committed to the importance of both the academic and activity programs, among others.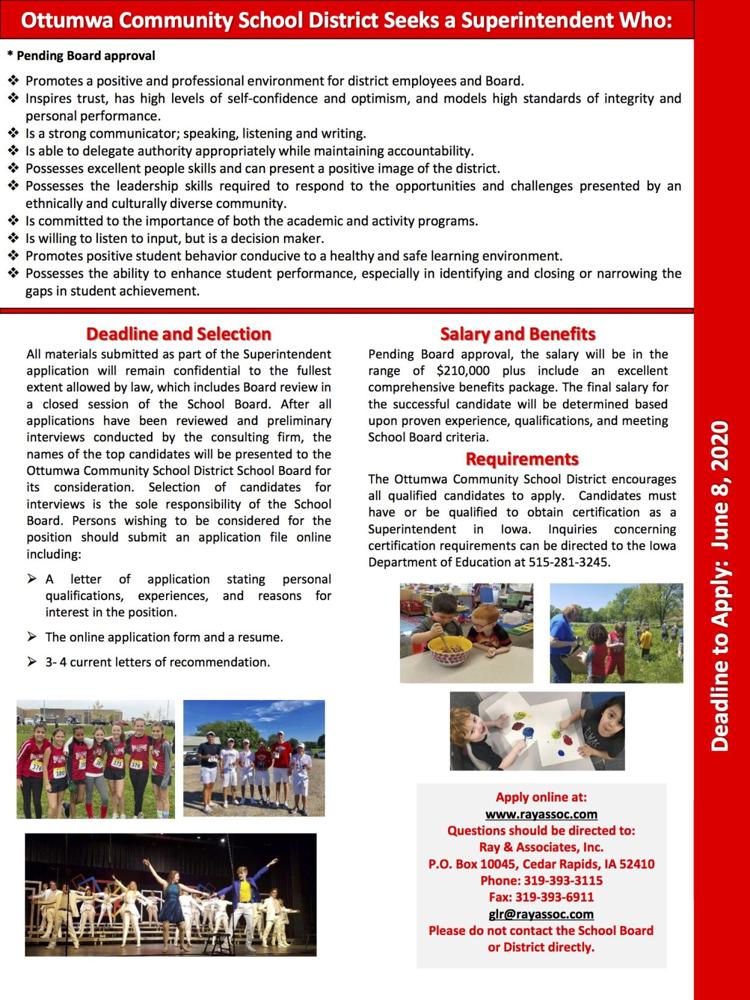 Many of those characteristics are among those listed on the flyer, pending board approval.
The salary on the flyer is listed at $210,000 plus a benefits package, but the final salary will be determined based on experience, qualifications and meeting board criteria.
The application deadline is June 8.
The meeting is set for 6 p.m. Tuesday and will be streamed on the district's YouTube channel.