OTTUMWA — It was midafternoon Sunday when Pastor Diane Koger took the crowd at Ottumwa High School back to church.
Koger spoke with the passion and skill of someone long used to taking an audience where she wanted it to go. There are enough divisions in our country, in our community, she said. It's up to people to heal those wounds.
"It is time that we come together and be united," she said.
While Sunday's purpose was to raise money for the Kennedy King Scholarship Committee, faith and family was a clear underlying theme. Jeff Hendred, the principal at Wilson Elementary, had said he hoped the event would have the feel of a block party. It often did.
For Sandra Pope, it was a chance to talk about the importance of history in ways that bridge gaps in many people's knowledge.
"Celebrate black history," she said. "But you know what? It's everybody's history."
Geting the conversation started isn't always easy. Pope teaches preschool. So her presentation is often designed to meet those students where they are and present history in ways that they can understand. Sometimes, she hopes, they take that home and continue the discussion that way.
Sometimes, it's as simple as hair styles.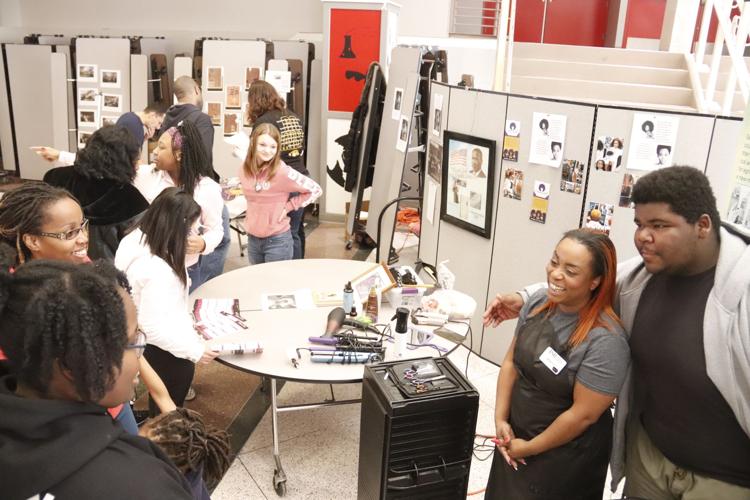 Michelle Howard represented the Iowa School of Beauty at the event. Hair can be a flashpoint when people don't understand what it means. For decades, people have been told their natural hair doesn't conform to what society wants. Howard said she understood the pressure of believing that hair straightening or styles more in step with what people think of as American culture are more desirable.
It's a matter of both society recognizing differences and people giving themselves permission to embrace them.
"Being able to wear your natural hair is freedom for us," she said.
Similar stumbling blocks can emerge in education. Dennis Hawkins-Smith represented the University of Northern Iowa. There are programs and scholarships that can help minority students reach higher education. But those make little difference if students don't know about them or, worse, don't believe education is something they can seek.
"There are a lot of scholarships out there, but just knowing that they're out there" is an important step, he said. Hawkins-Smith praised Ottumwa High School's efforts to help students, especially through the Gear Up program, but said there is always work to be done.
Almost anyone can be that bridge. He said students need to reach out to someone they trust. It doesn't matter if it's a teacher, a coach or a counselor. Taking that first step can open up the world.
"You have to find that person and ask," he said.
While challenges people face were certainly part of Sunday's discussions, the focus was on celebration. The cultures that make up the country all have unique histories, and they need to be understood as part of a bigger picture that encompasses everyone.
"It has to be American history," Pope said.