OTTUMWA — Authorities told motorists to stay home if they could Tuesday, after a winter storm system dumped snow and freezing rain across a large swath of Iowa.
Snow began to fall Tuesday afternoon and made travel treacherous as the day neared the evening commute.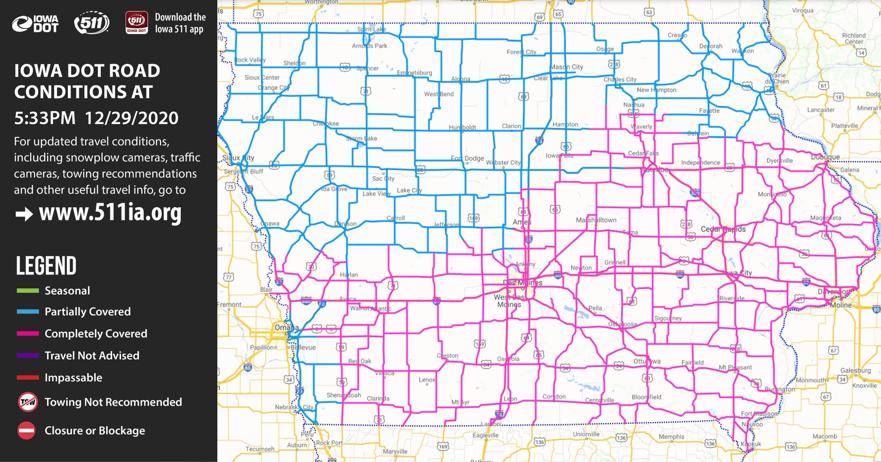 Reports from storm spotters, assembled by the Iowa Environment Mesonet, as of 5:30 p.m. showed varying snowfall totals reported.
Near the Missouri border in Appanoose County, less than an inch was measured. In Albia, however, more than an inch and a half of snow fell. In Ottumwa, spotters reported an average of four inches across the area.
The heaviest snowfall as of Tuesday evening was seen in Jasper County, where a spotter measured nine inches of snow.
The National Weather Service had issued a winter storm warning in the days and hours preceding the storm, which impacted all six of the counties in the Courier's coverage area. All 99 of Iowa's counties were under a winter storm warning, advisory or watch of some kind Tuesday. Forecasters originally expected 2-6 inches of snow in the area, but as the system neared the threat of freezing rain increased more and more.
Precipitation continued to fall as the Courier completed production for Wednesday's digital-only edition.
Road closures and accidents were being reported across the area, even as the Iowa Department of Transportation reported they had more than 500 plows on the roads across the state.
Adding to the issues were blowing snow causing low visibility on roads. The Iowa Department of Public Safety has asked travelers not to venture out on the roads if they don't have to. By 3 p.m., the Iowa State Patrol reported it had already assisted 174 motorists and covered 56 crashed around Iowa.
As of 5:30 p.m., roads across southeastern Iowa were still labeled as being completely covered. With precipitation — namely freezing rain — expected to fall until as late as 6 a.m. Wednesday, the storm could impact the morning commute. All area schools are on winter break.
Updated travel information is available at 511ia.org.
Weather conditions have caused delays in Iowa's coronavirus testing as well, as the Iowa Department of Public Health said. Three test sites — in Cedar Rapids, Davenport and Waterloo — closed. The Wapello County Emergency Management Agency closed the Ottumwa Test Iowa site early Tuesday evening, telling those with Tuesday night appointments they could come in on Wednesday. Test samples from other areas of the state where travel was not recommended will be delayed in getting to the laboratory for testing.
The Associated Press reported that AccuWeather said parts of southeast Nebraska, northeast Kansas, northern Missouri and southern Iowa could see ice accumulations of up to a quarter of an inch, which could weigh down power lines and branches and cause power outages.
Earlier Tuesday, snowfall was heavy, causing visibility problems for motorists and rapidly deteriorating road conditions, Iowa State Patrol spokesman Sgt. Alex Dinkla said. He added that crashes were happening across the state with heavy post-Christmas travel.
"All our troopers are very busy right now covering crashes all over Iowa. Road conditions are very dangerous," he said.
The city of Des Moines had more than 200 employees from public works, parks and recreation, and wastewater reclamation departments on snow removal duty. Public Works Director Jonathan Gano said 100 snow plows, trucks and other equipment were activated to 24-hour operation until the snow stops.
"We're looking at 8 inches followed by some ice so that's going to be a wonderful complication and I think I've seen the forecast for Jan. 1 which has another 4 to 5 inches," he said.
The Associated Press contributed to this report.
This story will be updated as more information becomes available.