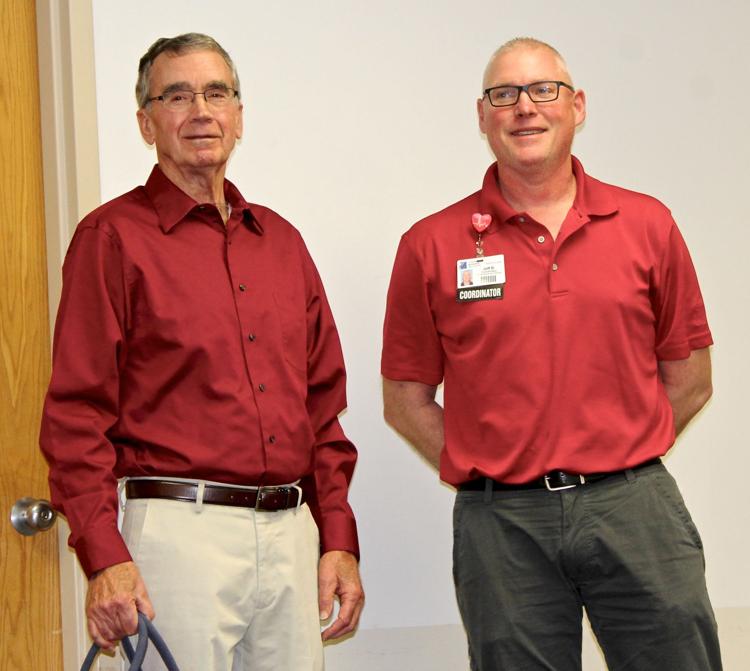 OTTUMWA
Tim Anders and David Sterling both have the same advice: Listen to your body when it's trying to tell you something; both say they likely wouldn't be alive today if they hadn't done so.
Last week, the Cardiac and Pulmonary Rehabilitation Department at Ottumwa Regional Health Center awarded the two for their efforts in following through on their recovery. Sterling was named Cardiac Patient of the year; Anders, Pulmonary Patient of the Year.
Both stories are different. "I was having some little warning signs, and I didn't know what they were," Sterling said. "I was having discomfort, pressure around the collarbone area and inside both elbows."
He said when the discomfort would appear, he would stop what he was doing and it would go away.
But it eventually got worse and started waking him in the middle of the night. In the fall of 2017, he and his wife Kathleen were visiting Chicago. "I would walk one block and want the light to be red," Sterling said. "I could only walk one block."
That night, while they were staying in Madison, Wisconsin, he ended up visiting the emergency room and had to have four stents put in.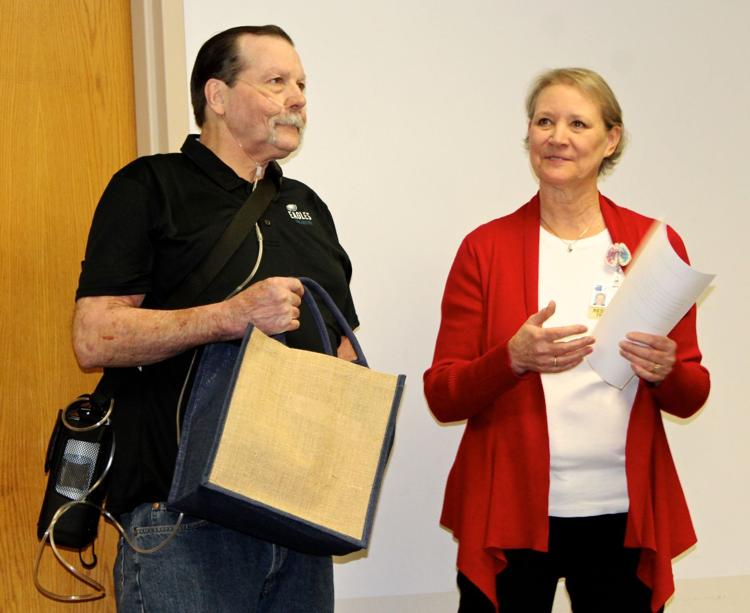 Anders attends rehabilitation because of his emphysema and COPD.
"It got to where I couldn't do anything, my breathing," he said. "I'd get up, take two steps and I had to fight for my air."
It got so bad, he said, that he decided to go see his doctor, who advised Anders to see a lung specialist. The lung specialist, in turn, told Anders about pulmonary rehab. "He thought I should go to it."
Anders had an inhaler at the time, but it wasn't helping him anymore. "My pulmonary function test showed my lungs were really debilitated," he said.
Both men are currently in the maintenance part of rehabilitation, and they say it's like family.
"They take you in and give you so much information," said Anders. "Just because you go through the 36 sessions [of rehabilitation], do the maintenance. There are times I didn't want to keep going, and they pushed me and helped me. The way they treat you, it makes you want to keep coming back."
"The information and interaction go a long ways," said Sterling.
"It's been a miracle to watch," said Anders' sister, Debbie McLeland. "Tim went from a person on oxygen sitting at home to having his own treadmill and bicycle he uses when he can't come here [to rehab]."
In fact, one year into the program, Anders has lost 50 pounds. But that's not the biggest change. He said when he started, he needed to be pushed into and out of the center in a wheelchair. "Now, I can walk in and out on my own," he said.
But the biggest lesson, they both said, is to pay attention.
"Listen to your body and what's it's trying to tell you," Anders said.
"Our bodies talk back to us, and it's up to us to listen," added Sterling. "I know you can't run to the doctor or ER after every pain and everybody's symptoms are different, but when you get to a certain age, you need to have it checked out."
"If you're smoking, definitely stop smoking," advised Anders. "Watch your health, diet, exercise. It all works together. You can't do one without the other."
"The main thing is, if you're experiencing chest discomfort and pain, you need to have it checked out," said Sterling.
"The symptoms are not always what you would associate with heart disease," chimed in Kathleen.
"Follow through with the rehab and exercising and doing what you're told," added Sterling.
"I have so much I owe to pulmonary rehab," said Anders. "I don't think I'd be alive today if I didn't come here."