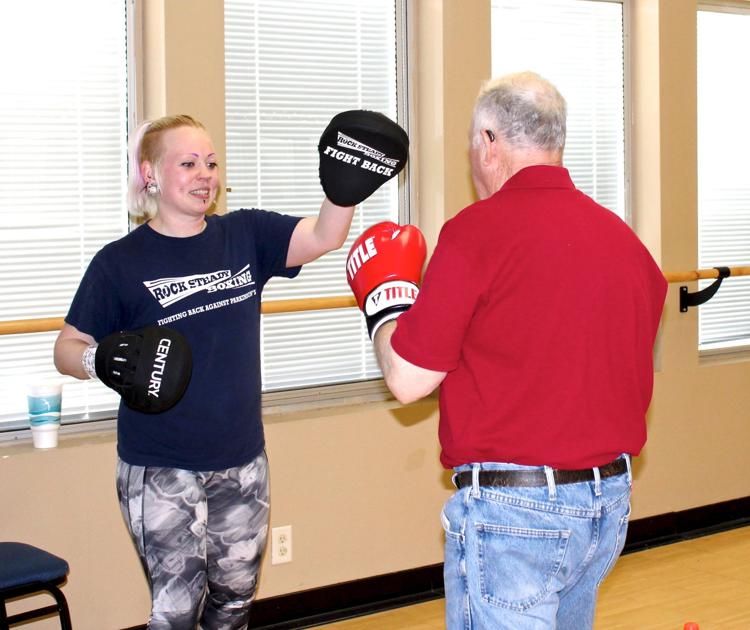 OTTUMWA — Parkinson's patients are fighting back in Ottumwa.
The local YMCA is coming up on its one-year anniversary of hosting Rock Steady Boxing for those with the diagnosis.
"We had our open house one year ago this month," said Kathy Sisler, wellness director at the Ottumwa Y. The program itself kicked off in May 2018, she said. "This program is the result of the community because it's filling a community need."
Sisler said she had been getting calls asking for programs for Parkinson's patients, and they continued to increase. "That told me there was really a need. We want to respond to the need out there" as a community center.
That's when she began to search for programs geared toward Parkinson's patients. She came across Rock Steady Boxing and noticed there were only three host sites in Iowa, with the closest in Pella.
When she went to Pella to observe a class, she discovered there were three participants from Ottumwa that were making the journey two times per week to participate in the program.
Sisler said the program was developed in Indianapolis when 39-year-old Scott Newman was diagnosed with Parkinson's disease. A friend, a former Golden Glove boxer, began sparring with him to help alleviate his symptoms, and Newman's symptoms began to stabilize after several months of boxing. From that experience, Rock Steady Boxing was developed. Now the program is worldwide.
"The way a boxer trains is beneficial to a Parkinson's patient," Sisler said. They work on their speed, agility, balance and hand-eye coordination. "These are all things the patients lose over time."
The Ottumwa classes have a capacity of 12 members. "We've always been full, and it's all been done by word of mouth," Sisler said. "Many of them who started a year ago, the progress in unbelievable."
She spoke of one member who prefers to shave the old-fashioned way. As the disease progressed, he had to move to an electric razor. Now, with the help of Rock Steady, he's back to his preferred method of shaving.
As the program marks Parkinson's Disease Awareness Month throughout April, Sisler said they're looking to expand the program by providing more classes and possibly a support group.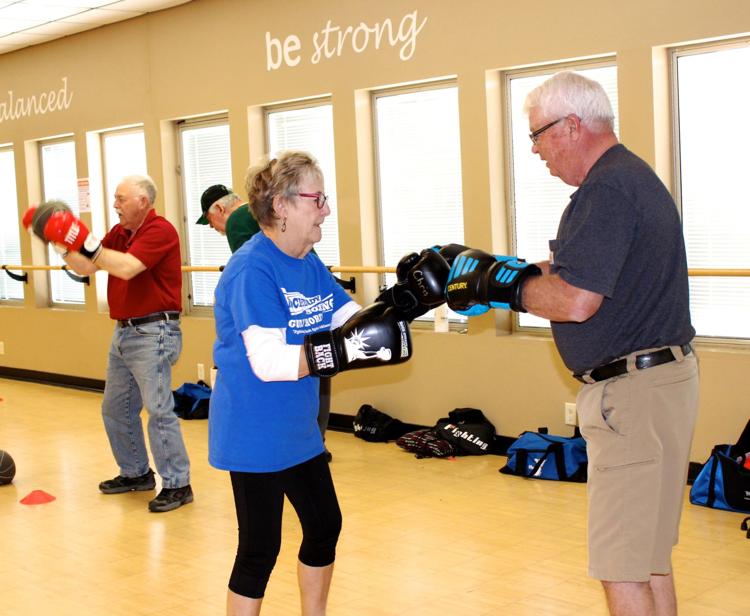 "We're always looking for volunteers to help, especially as we grow," she said. "I have a really great team. Danica, Chris, George, Jerry, Beth, Cindy, Jean. I couldn't do this without them."
Sisler said the whole philosophy of the Rock Steady Boxing program is to fight back against Parkinson's disease. "It's not a cure — there is no cure — but it's a chance to punch your frustration out. It's wonderful. At least there's some hope of, if anything, slowing down the symptoms.
"In more than 30 years in the fitness field, this is the most powerful program I've ever experienced and have ever been a leader of. I'm just so glad I found this. It's truly changing lives."
Features Editor Tracy Goldizen can be reached via email at tgoldizen@ottumwacourier.com or followed on Twitter @CourierTracy.