ELDON — The rising Des Moines River was only part of what had Jerred Reed worried Wednesday morning. The public works director for Eldon knew that when the river rises, it backs up a creek that flows through downtown.
That creek runs under Highway 16. It's a state road that needed to be kept open. Not only is it a major route through Eldon, it connects to a sand plant. And sand is a critical weapon in keeping flood damage to a minimum.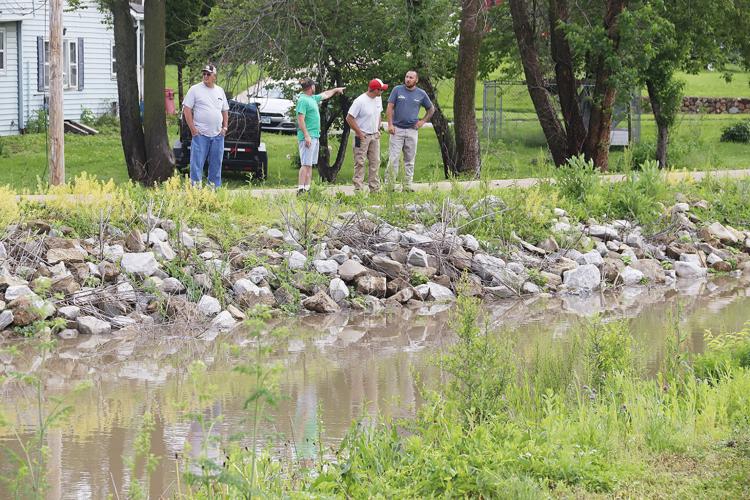 "That's priority one," he said. "When the river comes up the creek stops draining."
Fortunately, Reed had help coming. A call for volunteers to help sandbag Tuesday evening allowed the city to get started on barriers. And another Wednesday morning brought more people. "I've got about 60 people coming in a school bus from Cardinal," he said.
Those people were students and faculty from Cardinal High School. The school itself is just outside of town, but many of the people at it call Eldon home.
"We got a call at 7:30 this morning that the city needed more help," said Principal Landon Miller. A school assembly asked for volunteers, and the school responded. "The towns do so much for us. This is the least we can do."
It's not just people bracing for the flooding. Rising waters are pushing animals out of their normal areas, potentially causing conflicts with people.
Reed pointed to a water snake that had been run over trying to cross the road. "I've already seen four of them today," he said.
Flooding has reached serious levels in southeast Iowa after weeks of relentless storms. More than 12 inches of rain has fallen since the beginning of April, about a third of what the area would receive in a normal year. And that's just the official measurement. Some locations that were stuck under storms have received more.
Eldon does not have an official river gauge to monitor the water level. The closest one is in Ottumwa, upstream from the community. Forecasters said the river would crest around 18 feet on Wednesday evening, a top-10 flood crest for Ottumwa, though the pace of the rise had slowed by midday.
Terrie Smith walked her dog through downtown Eldon Wednesday morning. She moved to town in April after selling her farm. She's worried about what the rain is doing to farmers.
"It's just poured. It has been unreal," she said. "I don't know what they're going to do. Either they have a drought or a flood."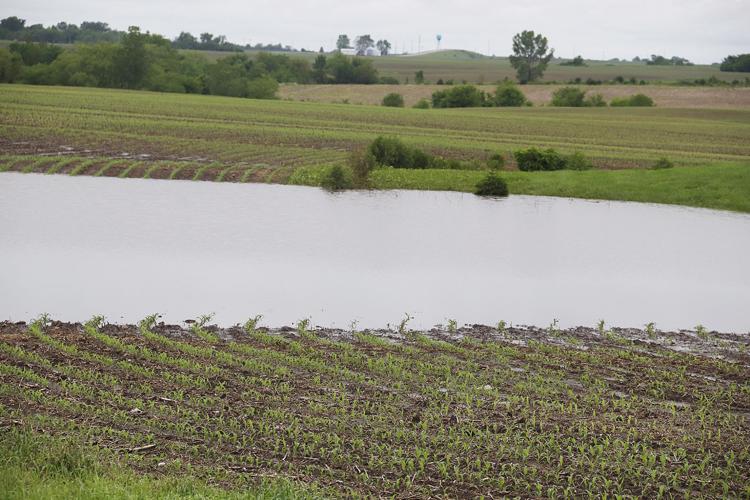 Evidence of the effects on farmers was easy to find outside Eldon. Most fields had standing water. A few spots appeared to have several inches over the new crops. Iowa's planting was already behind due to the rains, and farmers may have to make difficult choices about whether to replant flooded fields. Those choices become harder with commodity prices staying low.
The forecast is not encouraging. While Friday should be dry, storms are back in the picture Saturday, and another round is expected Monday and Tuesday.