OTTUMWA — The Des Moines River topped flood stage May 24. It has kept rising ever since.
Bill Robinson sat in his truck on Rabbit Run Road Wednesday morning, watching as the water flowed through yards and, in come cases, homes. He was fortunate. His property is on the other side of the river, on higher ground.
"We have another two feet," he said. "This is Mother Nature, pissed off again."
Robinson said he was trying to keep an eye on both sides of the river. Flooding is no stranger to the people who live along the riverbanks, but it has been a while since the water got this high. He said people learn to look out for each other.
The river was at a bit more than 16 feet while Robinson watched. The forecast was reason for concern, even with the extra space between his property and the water. Forecasters expected the river to crest near 18 feet, enough to come close to eating up that two feet of clearance he had.
For Joanne Carnes, the river was already in what she called the "summer place" she and her husband have. He had been working to get a boat into a trailer — the normal boat ramps along the river were already well under water.
Like many who live along the river, Carnes said the couple had emergency plans for when the water started rising.
"My husband just got his boat up. We have a motor home we pull out," she said.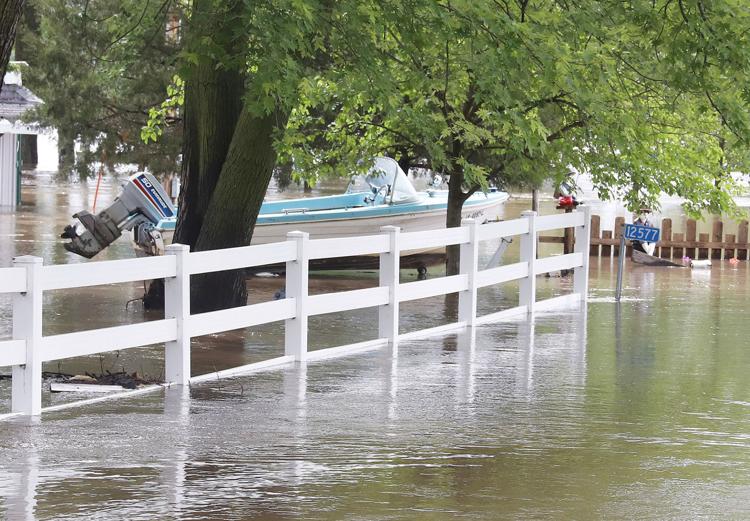 A crest of 18 feet would be enough to get into the top 10 all time for Ottumwa. Wednesday morning's 16 feet was already higher than Ottumwa has seen since flooding hit 20.04 feet in 2010.
"It was, what, '08, 10, 12?" Carnes said. "All the streets are flooded. Mother Nature needs to give us a break."