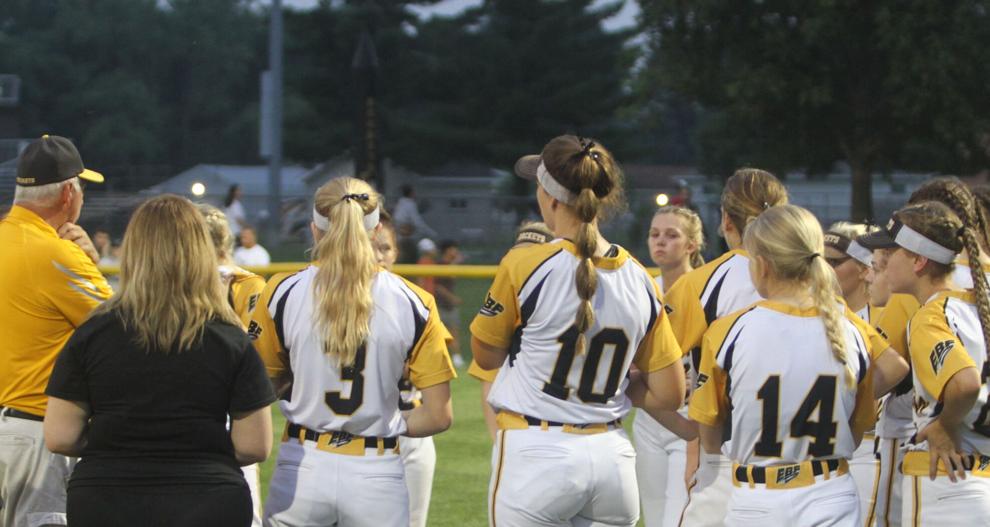 EDDYVILLE — The season didn't end the way the Eddyville-Blakesbug-Fremont Rockets expected on Monday at the hands of their South Central Conference rival Clarke, with the Indians clinching a ticket to Fort Dodge for the state softball tournament.
The No. 9 (3A) Rockets fell 11-4 to Clarke in Eddyville with a big crowd on hand stretching four-lawn-chairs-deep in the outfield for the Class 3A, Region 3 Championship. The seven-run loss was the third-largest margin of defeat the Rockets had all season. 
Rockets' head coach Tony Fenton said the season ended in disappointment and sadness, but added that the season-ending loss won't take away from what the team accomplished this season.
"It didn't end the way we wanted it to, but it doesn't take anything away from what they accomplished this year," Fenton said.
"They [Clarke] really improved a lot as the season went on," Fenton said. "You want to be playing you're best at the end of the year and they did."
Fenton had reason to say that. The Indians came into Monday winning their last four games, most recently a 6-1 victory over the reigning 3A state champion Albia Blue Demons in the semifinals. That momentum stayed with the Indians on Monday, with the bats opening a 1-0 lead after the top half of the first inning against EBF starter Brooklyn Bettis. 
EBF would tie it a 1-1 after lead-off solo home-run from Emalee Davis. Davis would reach base all four times on the night with three hits, while also reaching on an error. But the Rockets weren't done. Sarah Schutt sent a towering two-run home-run to the left field trees to give the Rockets a brief 3-1 advantage.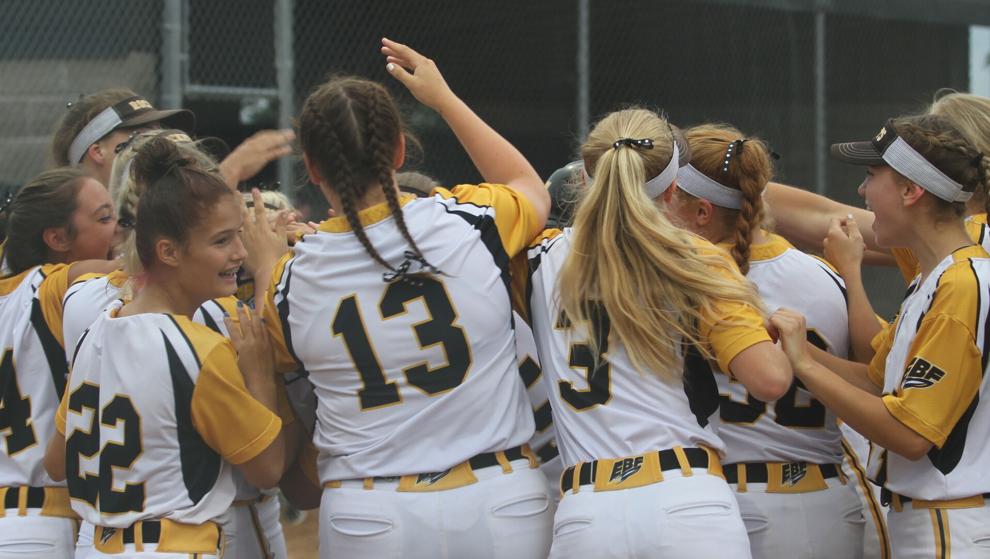 Clarke would go on to score in all but one inning against the Rockets, eventually tying the game at 3-3 and then pulling ahead 4-3. But the biggest blow would come in the sixth inning for the Rockets. In the top of the fifth, Fenton elected to swap Bettis for Molly Shafer in the circle. But the underclassman would face trouble quickly. 
"They're [Clarke's] a good team, they picked up on our errors and they hit the ball," Davis said.
The Indians would score two runs to hold a 6-4 lead after the top of the fifth, but would pile on in the sixth to the tune of four runs on three hits and two walks. But the Rockets hurt gave away runs as well.
After loading the bases with one out, Shafer would manage to get a fly out with no runs scoring. Two outs with the bases loaded down 6-4. The Rockets needed an out. And they got one, but only for a moment. Alivia Bakley struck out swinging , but it was drop third strike that rolled away from Emma Lenox behind the plate. But instead of stepping on home, she threw down to first base late, putting Bakley on safely and allowing a run to score.
Clarke head coach Vannesa Bakley couldn't contain her excitement for her team after the victory. The former Clarke and Indian Hills standout will take her team to state in her first season as the program's head coach.
Bakley said the Indians came into the season with Fort Dodge on their minds and to finally see it come true felt good for the former Indian softball player.
"I'm so proud of these girls and I'm excited for them to get to feel what it means to go to Fort Dodge. We talk about it all the time," Bakley said. "We break our huddle down with 'Fort Dodge' so it was alway our goal."
The Rockets kept the bleeding going, with Nicole Barnard hitting a two-run double for Clarke to make it a 10-4 deficit before the inning would end.
Bakley was a player on Clarke back in 2015, the last time the Indians made it to state, and had a message to those who wanted to know how it felt to see everything come full circle after Monday's win.
"Everyone keeps asking me, 'Oh, how does it feel to be back at state?' It's not about me anymore, it's about them. They showed up and plated great ball," Bakley said.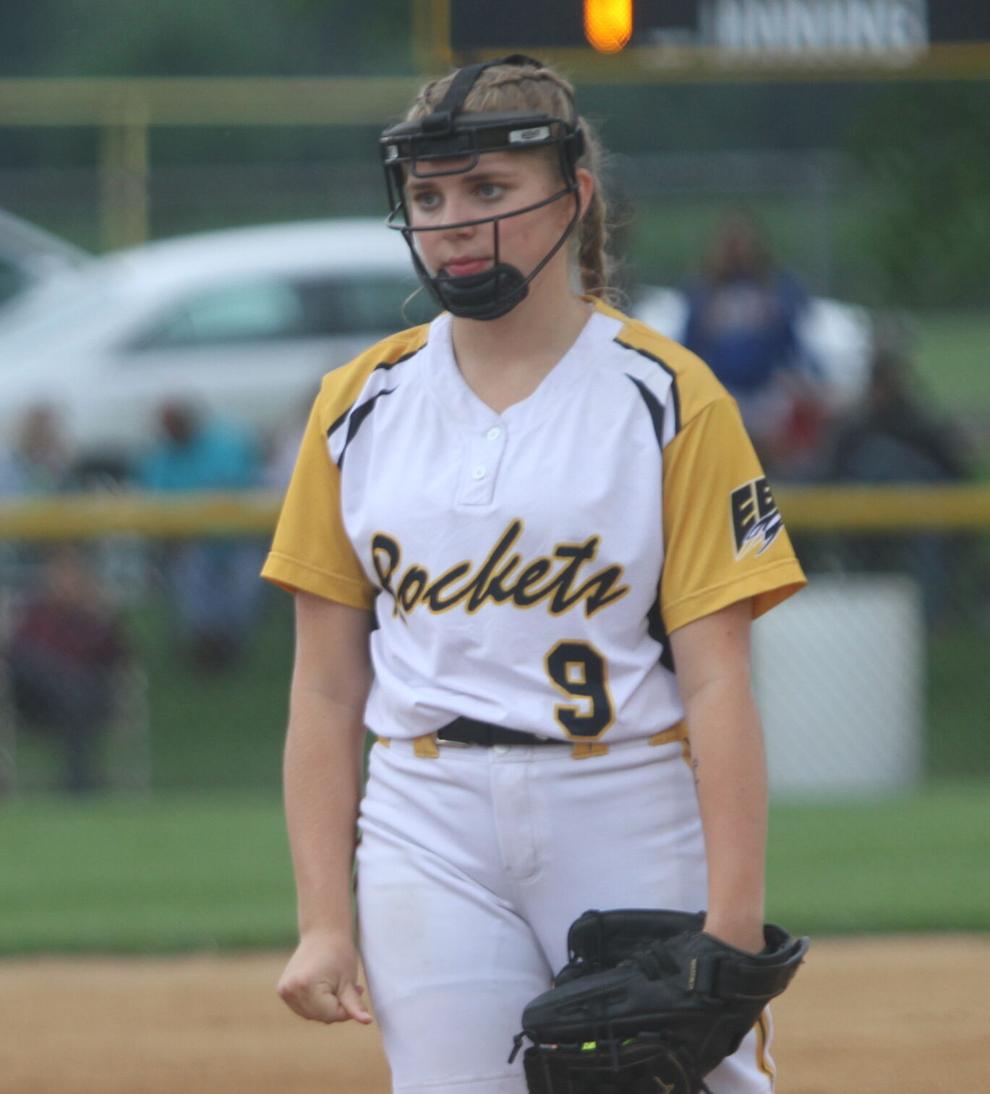 The Rockets' season ends at 27-10, with the program still looking to get back to Fort Dodge after making it in the 2016-17 season.
Davis, a senior, said she'll miss the chemistry and family dynamic amongst her teammates. Even after a tough loss, Davis said the memories she'll have of always feeling happy around this team will stick with her long after this loss fades away.
"Everybody makes me laugh and smile and I never feel down about anything with this group," Davis said.
Fenton said Davis will be one of many seniors who'll be missed in the dugout, with their veteran leadership coming in more ways than just on the field. Fenton made sure to tell the departing seniors that they'll all turn out to be wonderful women after their softball lives are done and to not let Monday's defeat stick with them.
After 11 seasons in Eddyville with many teams, Fenton said he'll remember this year's group as an unselfish and connected family.
"This group is very, very unselfish. They pull for each other all the time. It was never about who was the star. They did for each other," Fenton said.
The Iowa High School state softball tournament will begin July 19 at Harlan and Hazel Rogers Sports Complex in Fort Dodge. Clarke will face a tough test to open the state tournament, taking on top-seeded and top-ranked Davenport Assumption (37-3) on Kruger Seeds Field next Monday night at approximately 7 p.m.